The Revivalists' 2013 Fall Tour Starts Tonight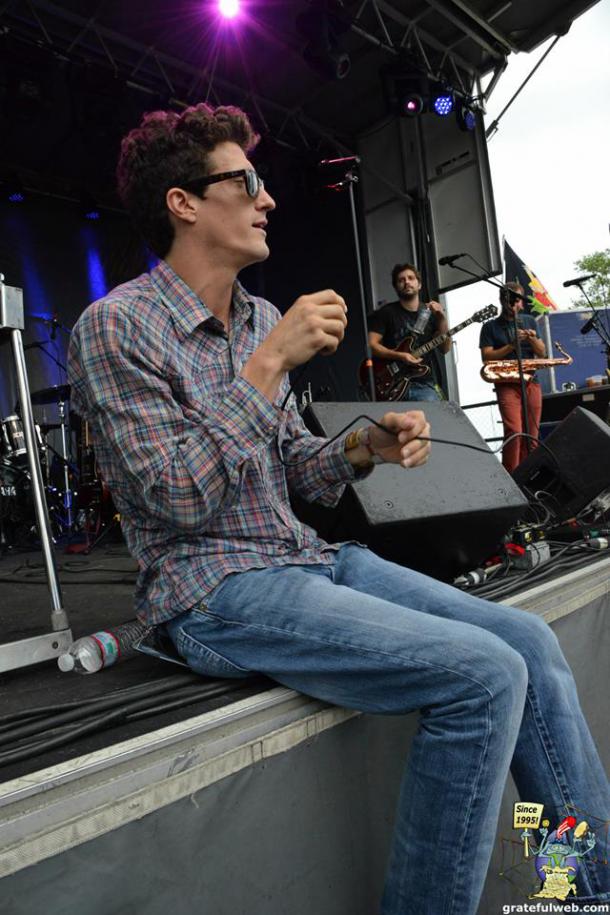 The Revivalists are incessantly on tour and their magnanimous live performances have been perpetually flooring audiences in every city they visit with their mix of soulful indie rock, r&b and funk. The Big Easy septet start a fall tour tonight at The Blind Tiger in Greensboro, NC and to kick off the run, the good folks over at Jambase have the premiere of a pro-shot live video of "All in the Family."  Filmed in Pensicola, FL at The Vinyl Music Hall earlier this year, the "bombastic" clip is the first from The Revivalists since the release of their Ben Ellman (Galactic, Trombone Shorty) produced album, City of Sound.
"This sizzling piece of game-tape serves as a testament to the incredible crowd of the Florida Gulf Coast and provides a sneak peek at some of our yet-to-be-recorded material," notes singer David Shaw. "'All in the Family' is a song that deals with a person's psyche and how we relate/interact with ourselves and society as a whole. The universe has its own laws that we can either choose to ignore or embrace. The family helps us realize this and move forward as one. This song has become a fan favorite and always crushes live, because of the energy brought forth by our family, the fans."
It's been a landmark summer for The Revivalists, with monster festival sets at Bonnaroo, Governor's Ball, Hangout, Mountain Jam, High Sierra, Ride Fest, Gathering of the Vibes and more. Relix dubbed them 'Summer Stars' and Michael Bialias profiled their festival run for the Huffington Post and No Depression.
Katherine Smith of The Pilot declares, "The Revivalists sow the seeds of New Orleans music, handle alternative rock instead of snakes, and shout their own gospel of community and joy from field tents and elaborate stages." Jessica Novack of the Syracuse New Times agrees, "For The Revivalists, it seems to be one part organic impulses and one part meaning it with every bit of every spontaneous performance that makes their blend of New Orleans-infused funk, rock and soul work."
Their recent Daytrotter session captures the energy of their stage set in a concise four-song performance. You'll want to catch The Revivalists live so a full list of tour dates can be found below.
The Revivalists Tour Dates:
9/05 - Greensboro, NC - The Blind Tiger
9/06 - Southern Pines, NC - Sunrise Theatre Preservation Green
9/07 - Roswell, GA - Riverside Park
9/10 - Baltimore, MD - 8x10
9/11 - Fairfield, CT - Stage One
9/12 - Portland, ME - Port City Music Hall
9/14 - Fredericton, Canada - Harvest Jazz & Blues Festival
9/17 - Charlottesville, VA - The Southern
9/18 - Charlotte, NC - The Chop Shop
9/19 - Auburn, AL - Bourbon Street Bar
9/20 - Lafayette, LA - The District
9/21 - New Orleans, LA - Tipitina's Uptown
9/22 - Gulf Shores, AL - Happy Harbor
9/26 - Tuscaloosa, AL - Jupiter Bar & Grill
10/03 - Dallas, TX - Prophet Bar
10/05 - Austin, TX - The Parish  (ACL after party w/ Moon Taxi)
10/18 - Athens, GA - The Georgia Theatre
10/19 - Jackson, MS - Martins
10/22 - San Antonio, TX - Sams Burger Joint*
10/23 - Baton Rouge, LA - Varsity Theatre*
10/24 - Oxford, MS - Lyric Theatre*
10/25 - Chicago, IL - The Vic Theatre*
10/26 -  St Louis, MO - The Pageant*
10/27 - Bay St Louis, LA - Bay Bridge Fest
10/30 - Chattanooga, TN - Track 29*
11/02 - New Orleans, LA - Voodoo Music & Arts Festival
11/08 - Bangalore, India - Windmill Craftworks
11/09 - Bangalore, India - Windmill Craftworks
11/10 - Bangalore, India - Windmill Craftworks
11/15 - Live Oak, FL - Bear Creek Music & Arts Festival
11/16 - Charleston, SC - The Pour House
11/18 - Raleigh, NC - Southland Ballroom
11/20 - Richmond, VA - The Capital Ale House
11/21 - Washington DC - The Hamilton
11/22 - New York, NY - Brooklyn Bowl
11/23 - Philadelphia, PA - The Blockley
11/24 - Port Chester, NY - Garcias @ The Capital Theater
12/05 - St. Petersburg, FL - Local 562
12/06 - Orlando, FL - The Social
12/07 - Miami, FL - Willcall
12/08 - Key West, FL - Ocean Key Resort Sunset Pier
12/09 - Key West, FL - Ocean Key Resort Sunset Pier
12/27 - Pensacola, FL - Vinyl Music Hall
12/28 - Pensacola, FL - Vinyl Music Hall
1/04 - Jam Cruise
* w/ JJ Grey & Mofro