Rex Foundation Announces Ralph Gleason Award to Jorma Kaukonen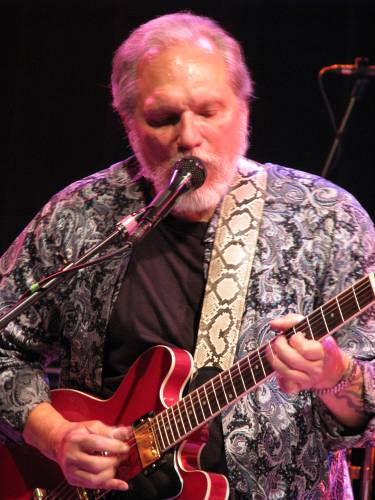 We certainly set out running and we took our time! Once the board determined who was to receive it, consensus was unanimous.
The Rex Foundation is pleased to award Jorma Kaukonen the 2009 Ralph J. Gleason Award for a scholarship program at Fur Peace Ranch to serve Appalachian youth. The $10,000 award is in memory of music journalist Ralph J. Gleason, a major figure in the advancement of music in America in the 1960s, whose openness to new music and ideas transcended differences between generations and styles.
Founding Rex board member, Jerry Garcia, and guitarist Jorma Kaukonen were peers in the Haight Ashbury days of 1960s San Francisco. Their respective bands, Grateful Dead and Jefferson Airplane, exemplified the San Francisco Sound. Both musicians were pickers, that is they loved to play. Jerry and Jorma both taught guitar. Jerry gave lessons at Dana Morgan's Music Store in Menlo Park near Palo Alto south of San Francisco. Jorma continues to teach at the 116 acre Fur Peace Ranch which he and wife Vanessa created in South Ohio on the edge of Appalachia. According to Jorma, "Fur Peace Ranch is a ranch that grows guitar players." Classes and workshops are held throughout the summers with instructors who are also world class musicians. Fur Peace Ranch accommodates budding musicians of all skill levels. Jorma Kaukonen continues to perform with fellow musician, Jack Casady, in Hot Tuna.
The Rex Foundation gratefully acknowledges the contribution Jorma has made to a vast community of music lovers, musicians and underserved youth who will continue to be nurtured with this award.
Furthering what the Grateful Dead started 26 years ago, the Rex Foundation endeavors to fund grassroots programs that are often under the radar of larger funding entities, yet work in bold, innovative ways to carry out essential work toward a healthy environment, promotion of the arts, protection of indigenous cultures, assisting others less fortunate, building strong communities and educating children and adults everywhere.  The Rex Foundation has distributed $8.6 million in grants to over 1,000 program across the U.S. and internationally, while also carrying out initiatives that foster creativity and positive community connections.