Rex Foundation Grant for San Francisco's Jerry Day
The Rex Foundation is pleased to announce a special grant to support Jerry Day in San Francisco. Jerry Day is a civic and cultural event that celebrates San Francisco native son - Jerry Garcia. The free event captures the true spirit of Jerry Garcia and celebrates his legacy at the Jerry Garcia Amphitheater, recognizing his childhood Excelsior District roots.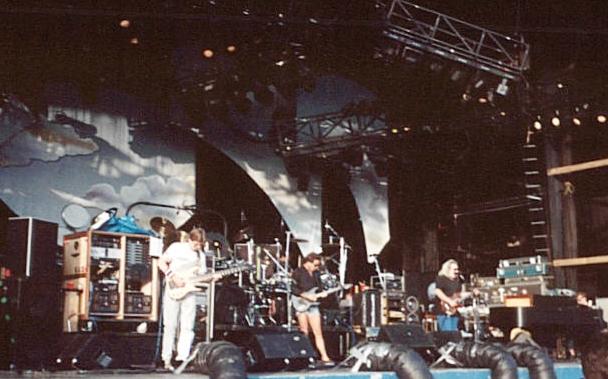 Jerry Day is held annually near Jerry's birthday, August 1. The 2010 event is Sunday, August 1. Jerry Garcia Amphitheater is in the Excelsior District at McLaren Park in the City and County of San Francisco. The outdoor amphitheater was renamed Jerry Garcia Amphitheater after the musician's death in 1995. Jerry Garcia was a force within the Grateful Dead for thirty years. He was a unique musician spawned from the bluegrass jug band era following San Francisco's Beat Generation. He and Grateful Dead band mates and a plethora of fellow musicians explored musical themes and genres well beyond the psychedelic splendor of the Summer of Love.
Rex Foundation acknowledges the wonderful work of the Jerry Day committee and its association with the San Francisco Parks Trust. The Jerry Day Celebration commemorates and invigorates the community that continues to grow because the music Jerry created remains vital. Many people only see each other at these types of events where the music is the glue that binds and creates the common shared experience. Jerry's following was enormous and included other bands and collaborations in addition to the Grateful Dead. Jerry may be gone, but we're not. His spirit is alive and replays through events like Jerry Day. The Rex Foundation board of directors is delighted to assist this worthy endeavor.
"Jerry Day" is one of those special sweet neighborhood events that San Francisco is famous for.  The amphitheater at McLaren Park has been renovated and improved greatly since it's renaming ceremony.  Come on out and hear some good music, walk through a beautiful park, and enjoy the grass lawn and Bay view in Jerry's old neighborhood.  Let the music flow free!" ~Carolyn Garcia
Furthering what the Grateful Dead started 26 years ago, the Rex Foundation endeavors to fund grassroots programs that are often under the radar of larger funding entities, yet work in bold, innovative ways to carry out essential work toward a healthy environment, promotion of the arts, protection of indigenous cultures, assisting others less fortunate, building strong communities and educating children and adults everywhere.  The Rex Foundation has distributed $8.6 million in grants to over 1,000 programs across the U.S. and internationally, while also carrying out initiatives that foster creativity and positive community connections.