Rick Alvin Shaier streets solo debut "Mantis Preying"
Submitted by mike on Tue, 09/15/2009 - 00:58
While stationed in Phoenix, AZ during the recording of Miniature Tiger's "Tell It To The Volcano", (Rick is also a member of Modern Art act Miniature Tigers) Rick holed up in a friend's bathroom with a microphone and a Powerbook and went to town.  The end result is the 9 song "vocal composition" coined "Mantis Preying". By limiting the recording to body parts and vocal gymnastics, Rick began his first journey working with unlimited multi-track arrangements via Digidesign's Pro Tools.  Bjork's "Medulla" served as the predominant inspiration behind Rick writing and layering vocals without the use of instruments.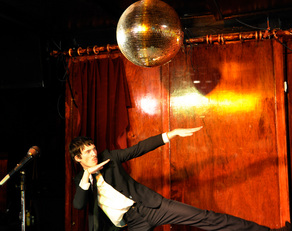 The songs on "Mantis Preying" feature dense, layered, complicated arrangements that somehow weave a central melody and structure throughout the cacophony of ideas.  This complex blend of rhythms and harmonies cannot seemingly come from one voice and one microphone. Though recorded under the constraints of "vocals only", it projects a sum much larger than it's parts, making use of the full sonic spectrum.  The record is completed with the song "Mystery of the Yellow Room" paying tribute to Andrew Lloyd Webber by combining a medley of themes from the "Phantom of the Opera".
Rick spent his formative music years studying piano in steamy, sun drenched, Phoenix, AZ, and graduated to drumming in a few different high school punk bands.  He learned quickly on instruments both stringed and skinned, and began tinkering with 4 tracks and microphones early on in the process.  Driven from an internal realization that he had to get the madness out of his head, vomiting the ideas out on tape became a cathartic endeavor for him.  As these bedroom demo samurai sessions wore on, Rick eventually started labeling these recordings with the moniker "Alvin Band".  The bonus EP "Lady Portrait", included in the package, is a latter example of these bedroom sessions.
Lately,  Rick has been rambling around the United States playing drums in Minature Tigers and opening for bands such as Ben Folds, Kevin Devine, and Guster. The Miniature Tigers crew has been performing material from the repertoire of Alvin Band as well.  There is a lot of music to come from young Mr. Schaier, and the combination release of "Mantis Preying", coupled with the bonus EP "Lady Portrait" serves as a solid introduction into his sorcery. More lunacy on the way…