The Ride Festival Announces 2014 Dates
Submitted by LiveLoud on Thu, 12/12/2013 - 20:26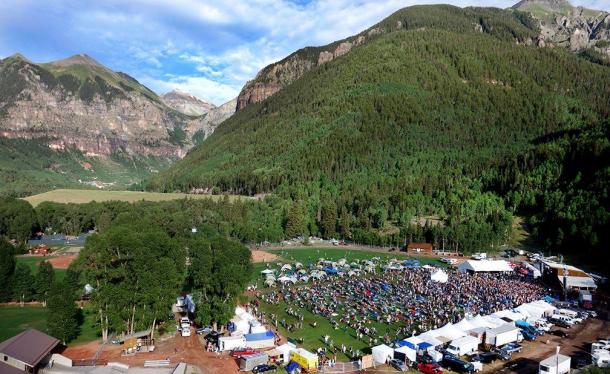 The Ride is proud to announce the dates for next summer's weekend rock festival - July 12-13, 2014 - in Colorado's breathtaking Telluride Town Park. The Ride Festival 2014 will partner with LickonaVision, the producers of PBS's iconic music series Austin City Limits and the team behind the award-winning music venue Austin City Limits Live at The Moody Theater (ACL Live) to book talent and produce the event's third installment.
Early Bird Tickets go on sale December 30 at 10 am MST at www.ridefestival.com.
Austin City Limits' longtime producers Terry Lickona and Jeff Peterson working with ACL Live talent booker Jack McFadden, together with KOTOfm and original Ride Festival Promoter Todd Creel of Telluride Productions promise to deliver another weekend packed with marquee acts and exciting new talent in the beautiful mountain town.  The weekend's music performances in Telluride Town Park will be recorded in their entirety. Highlights will be broadcast on PBS as an ACL Presents special episode later next year.
Lickona and Creel share a passion for live music and enjoy finding and sharing emerging talent. New music discovery is the signature of The Ride, a festival that has garnered praise for bringing the element of surprise to its devotees.
Like so many before him, Lickona is moved by the natural beauty of the valley. "Telluride has a magic that is almost hypnotizing," he said. "Nature and enjoying the outdoors is my second passion after music, and the two seem like a natural combination for me. Experiencing live music in a setting like Telluride is inspiring for both the performers and the fans."
The 2014 Ride Festival line-up will be revealed early next year.

In celebration of our announcement, The Ride is throwing a free party at the Sheridan Opera House on Monday, December 30th featuring the Ozark Mountains-steeped, rootsy rock of Bloodshot Records' Ha Ha Tonka.  Admission is first come first serve, with those who purchase Early Bird Tickets on December 30th priority access into the party. Details included below.
 
The Ride Festival
July 12-13, 2014
Telluride Town Park, Colorado
 
Early Bird Tickets go on-sale on Monday, December 30 at 10 am MST at www.ridefestival.com.  Early Bird Tickets are $125.00 for a Weekend Pass.
Quantities are limited and are available only while supplies last.
 
*Those who purchase The Ride Festival Early Bird Tickets will be put on a list to be priority access into the festival's official announcement party.  Read on for details…
 
The Ride Festival 2014 Official Launch Party with Ha Ha Tonka
Monday, December 30 at 9:00PM (doors at 8PM)
Sheridan Opera House
110 North Oak Street, Telluride
Admission is Free / 21 and over welcome
Priority access (as space allows) to those who purchase Early Bird Tickets on December 30