RIOT FEST: Announces After-Party Line-Ups
Submitted by MSO on Tue, 08/21/2012 - 13:51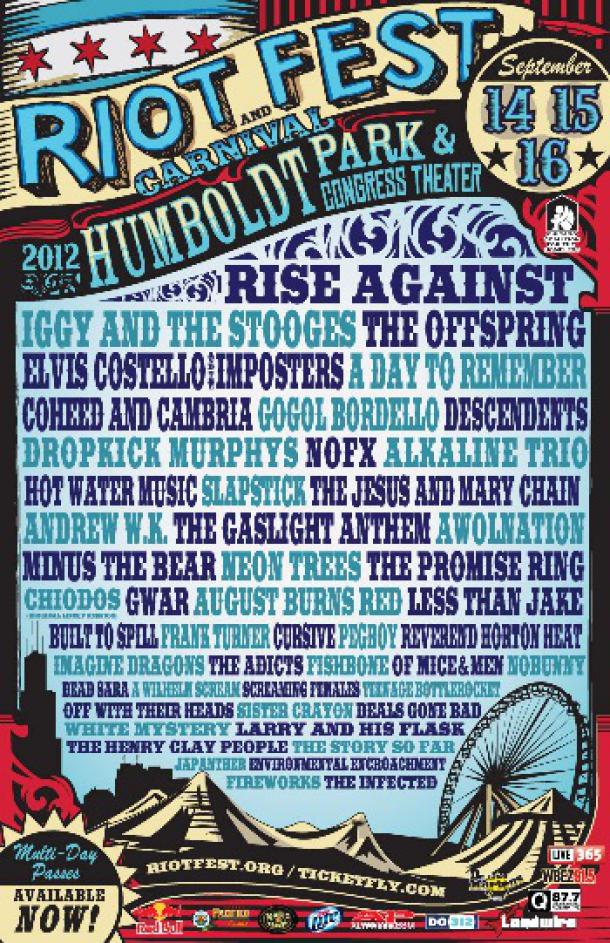 RIOT FEST–the music festival which celebrates rock, indie, punk and underground artists from every era--has announced the line-ups and venues for the after-parties for the Chicago festival (see full line-ups below). The official on-sale begins today, August 21 with a limited number of single-day tickets available. All after-parties are open to 3-day pass holders (subject to capacity). Go to: www.riotfest.org.
This year's after-parties continue a long-standing tradition unique to RIOT FEST.  "Our after-parties during Riot Fest are solely designed for fans," explains Riot Fest founder Michael Petryshyn. "Whether it's NOFX bringing down the Congress Theater like they did a few years ago or Alkaline Trio playing a small room for their hometown Chicago fans, these afters are a big thank you to everyone who's been there since we started."
2012 is a big year for the festival, which continues to grow and marks the eighth installment of RIOT FEST's flagship event in Chicago, as well as new stops in Brooklyn, NY (Saturday, September 8 at Williamsburg Park) Toronto, ON (Sunday, September 9, Fort York at Garrison Common) and Dallas, TX (Saturday, September 22 at Gexa Energy Pavilion).  Also new for 2012: the music festival is expanding to a three-day event in Chicago and launching the festival outdoors in beautiful Humboldt Park on September 15-16.
Michael Petryshyn explains the diversity and wide-appeal of RIOT FEST artists: "We handpick all of the artists from openers to headliners. Iggy and The Stooges, Elvis Costello, Rise Against, Descendents--each bill represents who we are.  Every band on here from Dropkick Murphys to A Day to Remember, all the way to The Jesus and Mary Chain and Gogol Bordello, represents a unique aspect of what Riot Fest was, is and will continue to be in the future.  It's a key goal for us to attract fans of every generation, otherwise you risk being stagnant." The three-day festival features artists well-known for their powerful live performances including: Rise Against, Iggy and the Stooges, Elvis Costello, Descendents, Dropkick Murphys, Coheed and Cambria, Alkaline Trio, The Jesus and Mary Chain The Gaslight Anthem, Andrew W.K. (full band), Minus The Bear, Frank Turner, A Day To Remember, Gogol Bordello, NOFX, Neon Trees, Dead Sara, Imagine Dragons, as well as new additions Cursive and Of Mice And Men, plus many more (see full lineups below).  Flanked by a handful of hip neighborhoods including Wicker Park and the Division Street corridor, Humboldt Park will feature three main music stages, thrilling rides, games, vendors and gourmet food trucks on the park grounds with stunning views of downtown Chicago.