RJD2 Declares Let There Be Horns!
Submitted by mike on Tue, 01/12/2010 - 05:37
RJD2 is pleased to present the first video for his new, so-close-you-can-taste-it release, The Colossus, out 1/19 on RJ's Electrical Connections. The video for "Let There Be Horns," the opening track off the new record, documents the life of a Minotaur in modern times. Directed by Thom Glunt, it's a fish out of water story we can all relate to.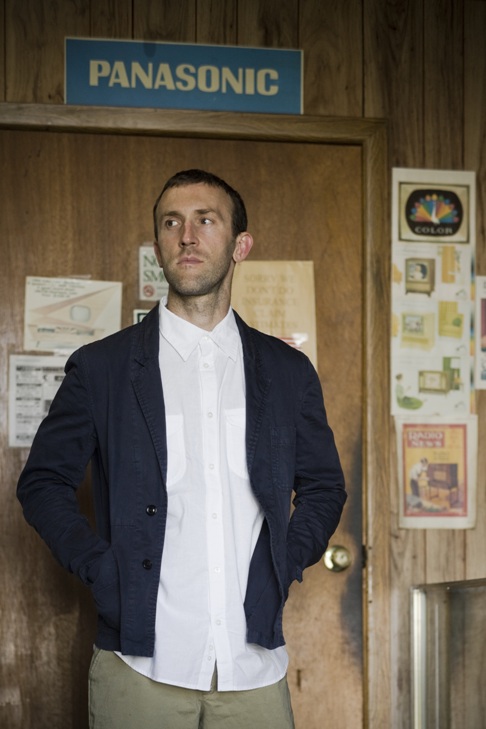 Watch "Let There Be Horns" here: http://www.youtube.com/watch?v=XVM4glts9FM

Also, RJ kicks off the first leg of his four-legged tour this weekend, starting out in our nation's capital (all dates below). If you're low on cash but wouldn't dare miss the show in your area, check out RJ's "Tweet to Win" contest on his site, where participants have an opportunity to win a pair of tickets to any show of their choosing, or the grand prize, "The Colossus Deluxe Package," which includes, among other things, a DJ lesson from RJ himself!
Check out "Tweet to Win" details here: http://www.rjselectricalconnections.com/index.php

And if that weren't enough, this week marks the release of RJD2's iPhone remix app, finally giving fans and tinkerers alike the chance to experience a bit of what it sounded like in RJ's studio as he worked on The Colossus. The application, called Touch Mix, was created by Future Audio Workshop, the makers of the well-received deadmau5 remix app.  RJD2 announced the news on his website Monday as part of his "Monday Madness" series, telling fans, "you can make your own mixes on the fly with 5 cuts, and also get a sneak preview of another track from The Colossus."  There are more details about how the Touch Mix app works on their site.
Tour Dates:
Mon. Jan. 11 - Charlotte, NC @ Visualite Theater #
Tue. Jan. 12 - Savannah, GA @ Live Wire #
Wed. Jan. 13 - Orlando, FL @ The Social #
Thu. Jan. 14 - Tampa, FL @ Crowbar #
Fri. Jan. 15 - Tallahassee, FL @ Club Downunder #
Sat. Jan. 16 - Atlanta, GA @ Masquerade (Heavan Room) #
Sun. Jan. 17 - Birmingham, AL @ Bottletree #
Mon. Jan. 18 - Chattanooga, TN @ Rhythm and Brews #
Tue. Jan. 19 - Knoxville, TN @ Valarium #
Wed. Jan. 20 - Asheville, NC @ Orange Peel #
Thu. Jan. 21 - Charlottesville, VA @ Jefferson Theatre #
Fri. Jan. 22 - Morgantown, WV @ 123 Pleasant Street #
Fri. Feb. 5 - Newport, KY @ Southgate House #@
Sat. Feb. 6 - Columbus, OH @ Sully's Music Diner #@
Sun. Feb. 7 - Louisville, KY @ Headliners Music Hall #@
Mon. Feb. 8 - Nashville, TN @ Exit In #@
Tue. Feb. 9 - Memphis, TN @ Hi-Tone Cafe #@
Wed. Feb. 10 - Oxford, MS @ The Lyric Oxford #@
Thu. Feb. 11 - New Orleans, LA @ Tipitinas #@
Fri. Feb. 12 - Baton Rouge, LA @ Spanish Moon #@
Sat. Feb. 13 - Austin, TX @ Emos #@
Sun. Feb. 14 - Denton, TX @ Hailey's #@
Mon. Feb. 15 - Tulsa, OK @ Cain's #@
Wed. Feb. 17 - Kansas City, MO @ The Record Bar #@
Thu. Feb. 18 - Columbia, MO @ The Blue Note #@
Fri. Feb. 19 - Grinnell, IA @ Grinnell College - Harris Center #@
Sat. Feb. 20 - Urbana, IL @  Canopy Club #@
Fri. Mar. 5 - Philadelphia, PA @ First Unitarian Church #&
Sat. Mar. 6 - Brooklyn, NY @ Music Hall of Williamsburg #&
Sun. Mar. 7 - New York, NY @ Highline Ballroom #&
Mon. Mar. 8 - Boston, MA @ Paradise #&
Tue. Mar. 9 - Providence, RI @ Jerky's Music Hall #&
Wed. Mar. 10 - Montreal, QC @ La TuLipe #&
Thu. Mar. 11 - Toronto, ON @ The Mod Club #&
Fri. Mar. 12 - Detroit, MI @ Magic Stick #&
Sat. Mar. 13 - Chicago, IL @ Metro #&
Mon. Mar. 15 - Minneapolis, MN @ Triple Rock Social Club #&
Tue. Mar. 16 - Madison, WI @ Majestic Theater #&
Thu. Mar. 18 - Cleveland, OH @ Grog Shop #&
Fri. Mar. 19 - Millvale, PA @ Mr. Small's Theater #&
Fri. Apr. 2 - Denver, CO @ Bluebird Theater #$
Sat. Apr. 3 - Durango, CO @ Strater Theatre #$
Sun. Apr. 4 - Phoenix, AZ @ Rhythm Room #$
Mon. Apr. 5 - San Diego, CA @ Casbah #$
Tue. Apr. 6 - Los Angeles, CA @ El Rey Theatre #$
Wed. Apr. 7 - San Francisco, CA @ The Independent #$
Thu. Apr. 8 - Eureka, CA @ Red Fox Tavern #$
Fri. Apr. 9 - Portland, OR @ Dantes #$
Sat. Apr. 10 - Bellingham, WA @ The Nightlight Lounge #$
Sun. Apr. 11 - Seattle, WA @ Neumos #$
# w/ Happy Chichester
@ w/ Kenan Bell
& w/ Break Science
$ w/ Busdriver