Rock n Roll Resort Announces Complete 2013 Lineup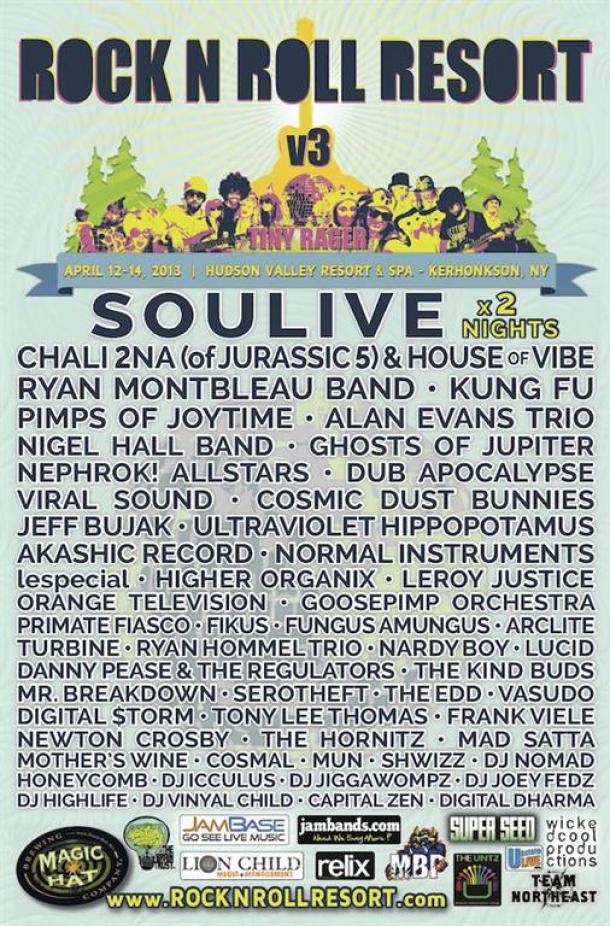 Wicked Cool Productions announces their complete lineup, adding Jurassic 5 founding member and the Grammy Award winning Ozomatli member, Chali 2na to its newest event, Rock n Roll Resort v3: Tiny Rager, taking place April 12-14, 2013, at the Hudson Valley Resort & Spa in Kerhonkson, New York.
Chali 2na will join headliners Soulive as well as 50 plus artists during Rock n Roll Resort's 3-day, 3-night all inclusive VIP resort and multimedia experience.
In addition to the music lineup, this version of Rock n Roll Resort will showcase collaborative live art, activities including an epic golf tournament and celebrity poker competition, workshops, theme nights, cyberistic euphoria, fine catered foods and even a festival vendor row, all at an affordable price and held within the conveniences of the Hudson Valley Resort & Spa.
An all-inclusive concert adventure, Rock n Roll Resort is an intimate destination event for music and arts. Held within the walls of a VIP resort, Rock n Roll Resort prides itself on its always evolving musical assemblage of the best and brightest in live entertainment, ranging from electronic, funk, bluegrass to progressive jam band performers. An aspect which is unique to Rock n Roll Resort is that fans get the opportunity to socialize with the artists off-stage, all weekend long.
Only 90 miles from New York City, the Hudson Valley Resort & Spa is also a convenient drive from most Northeast metro areas. Set within 400 wooded acres adjacent to Minnewaska State Park, and surrounded by gorgeous Catskill views, the ambiance of Hudson Valley Resort & Spa provides an unparalleled layer of tranquility--a quintessential location for such an incredible musical occasion.
Rock n Roll Resort v3: Tiny Rager Complete Lineup:
Soulive (two nights) ⚫ Chali 2na ⚫ Ryan Montbleau Band ⚫ Kung Fu  
Pimps of Joytime  ⚫  Alan Evans Trio  ⚫ Nigel Hall Band  ⚫ Ghosts of Jupiter
Nephrok! Allstars  ⚫ Dub Apocalypse ⚫ Akashic Record ⚫ Goosepimp Orchestra
Normal Instruments ⚫ lespecial. ⚫ Jeff Bujak  ⚫ Viral Sound ⚫ Cosmic Dust Bunnies
Higher Organix ⚫ The Primate Fiasco  ⚫ Mr. Breakdown ⚫ Arclite ⚫ Ryan Hommel Trio
Nardy Boy ⚫ Fikus  ⚫  Danny Pease and The Regulators (DPR) ⚫ Lucid
Ultraviolet Hippopotamus ⚫ Turbine ⚫ The Kind Buds ⚫ Tony Lee Thomas Band
Digital $torm  ⚫ Newton Crosby ⚫ Frank Viele ⚫ The Hornitz ⚫ Mother's Wine
Cosmal  ⚫ DJ Nomad ⚫ DJ Icculus ⚫ DJ Jiggawompz ⚫ DJ Joey Fedz ⚫ DJ Highlife Schwizz 
DJ Vinyal Child ⚫ Capital  Zen ⚫ Mun ⚫ Digital Dharma ⚫ Leroy Justice  Vasudo  ⚫ Mad Satta 
Serotheft  ⚫ Honeycomb ⚫ Fungus Amungus  ⚫ The Edd
Get tickets and find out more about Rock n Roll Resort at www.rocknrollresort.com.