Rock In Peace For Les Paul
Submitted by press on Tue, 08/18/2009 - 00:53
Legendary recording artist, studio pioneer, and virtuoso guitarist Les Paul passed away at the age of 94 on August 13, 2009, due to complications from pneumonia. Despite having earned more than 30 gold records during his career, Paul is most famous for inventing the multi-track recorder and overdubbing his guitar playing. In addition, he nearly single-handedly popularized and revolutionized the solid-body guitar by experimenting with feedback, distortion, and note-holding. The electric guitar's ubiquitous role in rock and roll is largely due to Paul's contributions even though country, pop, jazz, and swing remained the innovator's music of choice. However, his name remains synonymous with the Gibson guitar named after him; more than 50 years after its introduction, it remains the model most commonly associated with rock--and musicians such as Slash, Eric Clapton, Pete Townsend, and Jimmy Page. The Wisconsin native's hits include "Wither Thou Goest," "How High the Moon," and "Vaya Con Dios." A multiple Grammy winner, Paul is also a Rock and Roll Hall of Fame member, National Inventors Hall of Fame inductee, and National Medal of Arts recipient.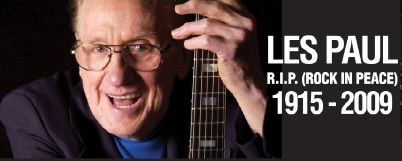 A private Funeral service will be held in New York. A service in Waukesha, WI will be announced at a later date. Details will follow and will be announced for all services. Memorial tributes for the public will be announced at a future date.  The family asks that in lieu of flowers, donations be made to the Les Paul Foundation, 236 West 30th Street, 7th Floor, New York, New York 10001.
For the past twelve years Les Paul appeared every Monday night at the Iridium Jazz Club despite advancing age and sever arthritis each week he delivered a first class show packed with his trademark guitar licks, hit songs and his patented ribald good humor.  An amazing run for any artist, but for Les this is what he lived for.  He was from the old school of the 'show must go on' so in that spirit the Iridium Jazz Club will continue to celebrate the man, his music and his legacy.
Iridium Jazz Club Honors Les Paul
Monday, August 17, 2009
8 & 10PM
Featuring:  BUCKY PIZZARELLI WITH THE LES PAUL & HIS TRIO - JOHN COLIANNI – PIANO - LOU PALLO – GUITAR, NICKI PARROTT - BASS - Plus Surprise Guests
IRIDIUM JAZZ CLUB
1650 BROADWAY (CORNER OF 51ST)
NEW YORK, NY 10023
RESERVATIONS: 212-582-2121
HTTP://WWW.IRIDIUMJAZZCLUB.COM/
Sets at 8:00 & 10:00PM