Rogue Wave Release New Single, Unveil Album Details
Submitted by mike on Thu, 01/14/2010 - 00:45
Now we're born again," sings Zach Rogue on the closing track of
Rogue Wave
's fourth studio album,
Permalight
. The dreamy acoustic lament lasts just over a minute but in sound and spirit it neatly sums up everything that comes before it. A punchy, deceptively effervescent set of multi-instrumental pop tunes, the Northern California band's latest set represents a giant breakthrough for Rogue and his longtime musical partner, drummer-keyboardist- vocalist Pat Spurgeon.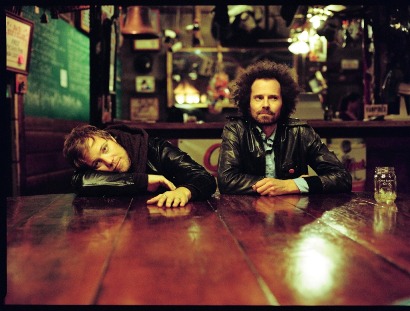 "The record sounds, for lack of a better word, fun," the frontman says. It's an astonishing change of direction, to say the least. Formed by Rogue in 2002 after he lost his tech job and parted ways with the Oakland rock group Desoto Reds, Rogue Wave has a reputation for crafting classic, inward-looking pop songs highlighted with psychedelic guitars, pastoral sound effects and intricate rhythms. On tunes from the new album like the title track "Permalight" and
"Good Morning,"
however, Rogue Wave steps away from expectations. Rogue says the former was written as a left-field sequel to Kool and the Gang's "Celebration," with synthesizers that simultaneously sound brittle and blissful. "Stars and Stripes" builds on a deep groove before spilling over in a raging chorus.  Clubby beats are prominent but the album doesn't sit still for long. "Per Anger" is a straightforward rock tune that takes its cues from Pixies' loud-quiet-loud dynamic.
Then there's the album's unofficial centerpiece, "I'll Never Leave You," a simple acoustic tune that finds Rogue coming to grips with the overwhelming emotions that come with young fatherhood. Like many of the songs on the album it's rooted in Rogue Wave's triumph over seemingly constant peril -- including the tragic death of a former band mate and constant health issues -- and the band's undying determination to push forward.  Making this album was no exception.
In September 2008, after the band returned to Oakland following a summer tour, Rogue played a solo show opening for Nada Surf. Two days later, the singer woke up and couldn't move. There was some concern that he might be having an aneurysm or heart attack, so doctors wheeled an X-ray machine into his living room to check his heart and lungs. It turns out Rogue had slipped two discs in his neck, which were pressing on his spinal cord. "It was the worst pain I had experienced," he says.
Over the next few months, his condition grew worse until he eventually lost feeling in his right hand. Confined to his bed, there was nothing doctors could do for him, no medications that could relieve his pain. "I just felt like I was being tortured," Rogue says. "I felt like I was dying."  In January, the pain began to gradually lift, giving him just enough sensation to pick up the guitar and strum it. He celebrated the recovery the best way he knew, by pouring his relief into new material. "When I started writing I wanted to make a record that was a little more up, a record you could move your body to because I couldn't move for so long," Rogue says. "I told Pat I wanted to make a total dance album."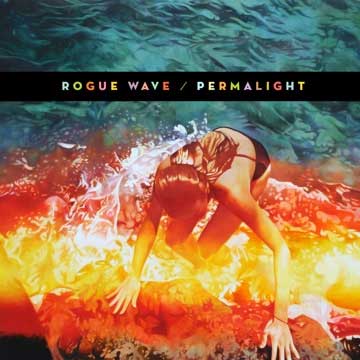 To do that Rogue decided to make a conscious break from the past. "I decided when I picked up the guitar again I didn't want to play anything I knew," he says. "Even if that meant yelling into the microphone or detuning a guitar, I wanted to record all those ideas."
Tracklisting:
Solitary Gun
Good Morning
Sleepwalker
Stars and Stripes
Permalight
Fear Itself
Right With You
We Will Make A Song Destroy
I'll Never Leave You
Per Anger
You Have Boarded All That Remains
--
Tour Dates
02/24 - San Francisco, CA @ Noise Pop 02/26 - Toronto, ON, CA @ Mod Club
03/01 - Club Boston, MA @ Paradise Rock
03/02 - Brooklyn, NY @ Music Hall of Williamsburg
03/03 - New York, NY @ Bowery Ballroom
03/04 - Philadelphia, PA @ First Unitarian Church Sanctuary
03/05 - Washington, DC @ 9:30 Club
03/06 - Carrboro, NC @ Cat's Cradle
03/08 - Atlanta, GA @ The Loft
03/09 - Nashville, TN @ Mercy Lounge
03/10 - Birmingham, AL @ Bottletree
03/13 - Orlando, FL @ The Social
03/15 - New Orleans, LA @ One Eyed Jacks
03/16 - Houston, TX @ Warehouse Live
03/17 - Dallas, TX @ The Loft
03/18 - 03/20 @ SXSW
04/07 - Santa Cruz, CA @ Rio Theatre
04/09 - Portland, OR @ Wonder Ballroom
04/10 - Seattle, WA @ Neumo's
04/13 - Boulder, CO @ Fox Theatre
04/14 - Lawrence, KS @ The Bottleneck
04/15 - Minneapolis, MN @ Fine Line Cafe
04/16 - Madison, WI @ High Noon Saloon
04/17 - Chicago, IL @ Lincoln Hall
04/20 - Columbia, MO @ Mojo's
04/21 - Tulsa, OK @ Cain's Ballroom
04/24 - Tucson, AZ @ Club Congress
04/27 - Solana Beach, CA @ Belly Up Tavern
04/29 - Los Angeles, CA @ El Rey Theatre 04/30 - San Francisco, CA @ The Fillmore