Ronnie Penque: Only Road Home
Submitted by press on Mon, 10/25/2010 - 15:57
You know him as bassist for the world famous New Riders of the Purple Sage. When not touring the country with The New Riders, Ronnie has been busy working with his solo project The Ronnie Penque Band. Now Ronnie and his band have released their first debut CD, ONLY ROAD HOME. The tracks of this classic Americana rock album are filled with great song writing, infectious grooves, sweet vocals, harmonies and a good old school feel. ONLY ROAD HOME is a hook-laden record with catchy melodies rocked out by Penque*s band.  This record will leave Classic Rock fans singing the songs for weeks.  The blend of Jam band, Rock, R&B, with a taste of Gospel, Country and a "Little Soul* will appeal to fans from The Grateful Dead, Tom Petty to The Eagles.  Penque's song  writing has elements of  the greats before him like Bob Dylan and Robert Hunter. His voice brings back memories of Don Henley, Jerry Garcia, or Paul Simon. ONLY ROAD HOME is a fresh sounding old school Classic Rock album set to delight Classic Rock, Pop and Jamband fans alike.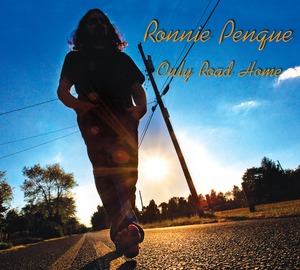 The Ronnie Penque Band will be doing a string of CD release parties and shows in the Northeast
Jan 8th 2011 at 9 PM:  Mexicali Live, 1409 Queen Anne Road Teaneck, NJ 07666 Tickets can be purchased at www.mexicalilive.com

The Ronnie Penque Band is led by singer and bassist, Ronnie Penque. The band includes Ron's brother, Chris Penque on rhythm guitar, Jeff Pearlman on keys and vocals, Katie Pearlman on drums and vocals, and Andy Trister on lead guitar.  CD Available at www.ronniepenque.com
Ronnie's Bio:
Ronnie is best known as the bass player and vocalist of the world famous New Riders of the Purple Sage. When not working with NRPS Ronnie spends time with his solo project RONNIE PENQUE BAND which includes his brother Chris Penque on guitar, Andy Trister on lead guitar, Jeff Pearlman on keys and vocals, and Katie Pearlman on drums and vocals.
Ronnie started his music career as the original bass player in the popular New Jersey Grateful Dead cover band, Ripple. Ripple was formed in 1978. During the Ripple years Penque would also moonlight with other bands like Wig Jam and Splintered Sunlight. After Ripple retired in 2003, Ronnie was asked by keyboardist Melvin Seals of The Jerry Garcia Band to join his band, "Melvin Seals and JGB". Ronnie toured with Melvin and JGB for 3 years as lead singer and bassist. Penque then joined up with Buddy Cage and Johnny Markowski in Stir Fried which led to the reforming of The New Riders of the Purple Sage in 2005.Ronnie and the New Riders play over100 shows per year throughout the United States and Canada.
If the name Penque is familiar, Ron's uncle the late Romeo Penque was one of the most famous woodwind and flute players in the music industry who was best known for his work with Miles Davis. At age 12 Ronnie was taught to play bass by his father Ron Penque Sr., an accomplished session bass player for 20 years, who gave Ronnie his 57 Precision bass (Dads Bass) upon his retirement. Some of Ronnie's musical influences are The Grateful Dead*s Phil Lesh, NRPS bass player Dave Torbert, Donald Duck Dunn, John Entwistle, Paul McCartney and Jack Casady, among others.
Through the years Ron has also played with many other bands and great musicians including Bobby Weir, Mickey Hart, Vassar Clements, Peter Rowan, Melvin Seals, Robert Hunter, Wig Jam, Splintered Sunlight, Jeff Austin, Neon Gods, Stir Fried, John Popper, Jeff Mattson, John Dawson, Tony Trischka, Pete Sears, Buddy Cage,David Nelson, Barry Sless, Keller Wiliams, Donna Jean Godchaux, Jeff Pevar, Tom Constanten, Michael Falzarano, Johnny Markowski, Mark Karen, Jack Casady, GE Smith, Mookie Siegel, Pinetop Perkins and Tex Logan.