Roots Singer/Guitarist Sid Selvidge Returns with I SHOULD BE BLUE
Submitted by mike on Sat, 05/01/2010 - 05:34
For decades, Sid Selvidge has been one of the most singular voices in American roots music. His unique and seamless fusion of hill country blues picking and languid folk-styled storytelling has allowed Selvidge to carve out a niche that has separated him from other traditional and contemporary southern songwriters. Now, five years after his acclaimed CD/DVD Live at Otherlands, Sid returns with the gracefully melodic I Should Be Blue. Available in stores and online June 8, Selvidge''s 8th solo album and 3rd from Memphis-based Archer Records sees him crafting material that recalls the warmth of sound and spirit present in classic 70s era folk-tinged pop LPs.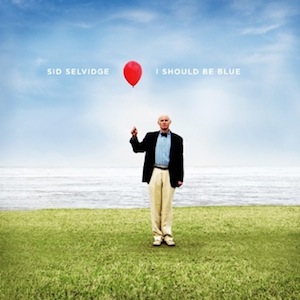 From his early days playing with Furry Lewis and Mississippi Fred McDowell at The Bitter Lemon Club in Memphis, to his and friend Jim Dickinson's elusive Mudboy and the Neutrons (Bob Dylan dubbed them "the great band that nobody could find"), to his storied solo career with Enterprise (Stax), Nonesuch (Elektra), and his own Peabody label, Selvidge has always been able to stand alone in his ability to integrate classic methods into fresh vocal and strumming approaches. Former New York Times critic John Rockwell probably said it best: "Sid Selvidge, who comes from Mississippi by way of Memphis, is neither country nor rock. He's pretty much everything musically in the whole Southeast." David Fricke of Rolling Stone is also a known admirer, having declared emphatically, "Sid Selvidge is a precious treasure", in his glowing review of Sid's previous studio effort, A Little Bit of Rain (Archer Records, 2003).
While his past work has garnered him the praise of national critics, I Should Be Blue palpably displays his versatile appeal to fans as both an original artist as well as an interpreter. Selvidge adjusted his formula for I Should Be Blue, working for the first time with renowned producer/musician/songwriter Don Dixon (Joe Cocker, The Smithereens, REM, Counting Crows), as well as inviting up-and-coming vocalist Amy Speace to join him on several tracks. These duets including Sid''s sweet and dreamy "Dimestore Angel", Speace''s original gem, "Two", as well as warm, wistful nods to favorites like Townes Van Zandt''s "I'll Be Here In The Morning" and Donovan''s "Catch The Wind". Selvidge, along with the US and European press took quickly to Speace, with Paste Magazine calling her latest release, 2009's The Killer In Me, a "resolutely hopeful take on heartache and loss...beautiful lyrics are spun with a soulful, husky voice that lilts like a country sweetheart but mourns like Leonard Cohen."
In addition to combining new elements to Selvidge''s sound in Dixon's production techniques and bass playing and Speace''s rich vocals, I Should Be Blue will also feature some more familiar players. Among them are Sid''s son, Steve (The Hold Steady) who plays acoustic and electric guitars, Paul Taylor (Chuck Prophet) on drums and washtub bass, and fellow Archer artist Amy LaVere on upright bass. The outcome is a tender portrait of love and longing amidst loss, flowing with an effortless grace and natural beauty distinctly its own.
I Should Be Blue will be available in stores June 8, to coincide with tour dates for a Sid Selvidge and Amy Speace joint U.S. tour. | For more information, please visit www.Archer-Records.com or www.SidSelvidge.com.

Summer 2010 Tour:
June 7 - New York, NY - The Living Room
June 8 - Pittsburgh, PA - Club Cafe
June 10 - Raleigh, NC - Six String Cafe and Music Hall
June 11 - Maryville, TN - Brakins Blues Club
June 12 - Nashville, TN - The Basement
June 13 - Memphis, TN - Levitt Shell @ Overton Park
June 21 - Delaware Water Gap, PA - Sycamore Grille
June 22 - Winston-Salem, NC - The Garage
June 23 - Charlotte, NC - Evening Muse
June 27 - Decatur, GA - Eddie's Attic
July 8 - Seattle, WA - Empty Sea Studios
July 9 - Bellingham, WA - Green Frog Cafe
July 10 - Portland, OR - Alberta Rose Theatre
July 11 - Hood River, OR - Blackburn House Concert
July 12 - Bend, Oregon - Windance House Concert
July 23 - Portland, MD - TBA
August 6 - Dallas, TX - Uncle Calvin's
August 7 - Oklahoma City, OK - Blue Door
More dates to come!