Rusty Anderson: Born On Earth out August 3rd
Submitted by mike on Tue, 05/11/2010 - 23:04
Los Angeles-based Rusty Anderson, lead guitarist for the Paul McCartney Band, will release his sophomore album, Born On Earth, late this summer, having recently inked a distribution deal with Megaforce. Anderson's album will hit stores on August 3, 2010.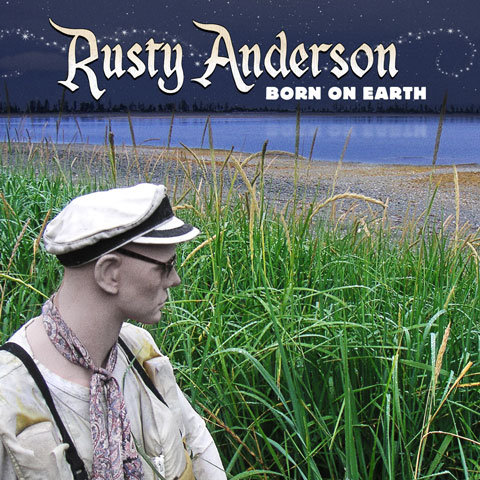 Born On Earth is a loosely conceptual album that looks at modern life, contemplating what it's like, as individuals and in communities, to be alive in this era and on our planet. Musically, the album ranges from the howling, guitar-heavy title-track opener to the dreamy, power-pop of "Timed Exposure;" from the jaunty, folk-y "Where Would We Go?" to the evocative, cascading, hammer dulcimer-accented yearnings of "Baggage Claim;" and from the grand modern rock of "New Beginning" to the driving, spacey build of "Under A White Star." Throughout the album, Anderson's free, expressive guitar playing anchors the songs, whether gentle, acoustic picking or crushing riffs or a searing solo. Recognized and counted on for his virtuosic skills, it's his innate understanding of a song's needs and his use of restraint in playing that sets him apart.
This hard-wired, understated skill has made Anderson an invaluable player for a stellar laundry list of top artists that includes: Elton John, Willie Nelson, Joe Cocker, Stevie Nicks, Neil Diamond, Gwen Stefani, Regina Spektor, Nelly Furtado, Cat Stevens, Jewel, and Matthew Sweet. And, of course: Sir Paul McCartney, with whom he has toured and recorded since McCartney's 2001 album, Driving Rain. In the past nine years, Anderson has played countless shows across the world as an integral part of the Paul McCartney Band - Rolling Stone has written, "McCartney's four-piece band handled the broad range of his music seamlessly, with fiery guitar work from Rusty Anderson" - as well as on McCartney's albums Chaos and Creation in the Backyard (2005) and Memory Almost Full (2007). He also appears on four of McCartney's live DVDs.
Born and raised in La Habra, CA, Anderson first picked up the guitar at age 8 and is largely self-taught, inspired by the music of Jimi Hendrix, The Beatles, Genesis, The Mothers of Invention, and Mick Ronson. He formed his first band, Eulogy, at age 13 and soon was opening for bands like The Police, The Runaways, Van Halen, and Quiet Riot in southern California. Since then - in addition to lending his ample artistry to other musicians in the studio - Anderson has played in a number of bands, notably Animal Logic (with The Police's Stewart Copeland and legendary bassist Stanley Clarke) and '90s alternative rockers Ednaswap, who released four major label albums and wrote the hit single "Torn" (later covered by Natalie Imbruglia).
Anderson's debut solo album, Undressing Underwater, was released in 2005.
Track listing for Born On Earth:
Born On Earth

Timed Exposure

Baggage Claim

Private Moon Flower

Julia Roberts

Under A White Star

Where Would We Go?

New Beginning

These Are The Days

Funky Birthday Cake

Intro