On Sale Friday: John Scofield Uberjam Band @ Boulder Theater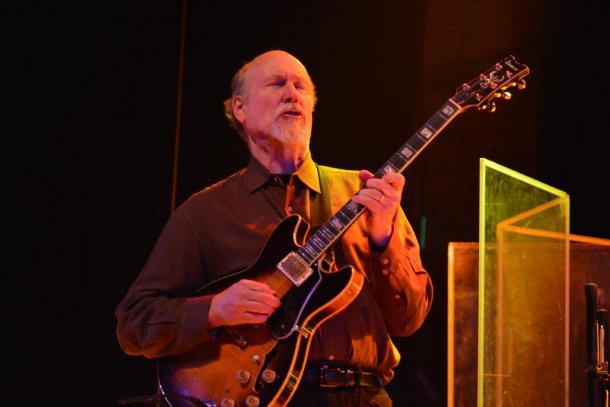 Boulder Weekly and Z2 Entertainment are proud to present John Scofield Uberjam Band featuring Andy Hess, Avi Bortnick and Adam Deitch to the Boulder Theater on Thursday, August 1st, 2013.  Tickets will go on sale to the public on Friday, March 15th, 2013 at 10:00 am for $27.50 in advance and $30.00 day of show.
John Scofield talks about überjam:
"Acidhead" This song came about when we started jamming on Jesse's dub bass line, which anchors the entire song. Avi's Indian samples inspired me to improvise in a faux-Eastern style. I came up with a melody and just generally let the tune evolve over months on the road. This is a true four-way collaboration. John Medeski came in to the studio and added a lot to the sound of the piece with his odd and unique Mellotron–a weird, interesting antique keyboard. "Acidhead" is played freely with a very minimal form.
"Ideofunk" I wrote this in about five minutes but I thought the melody was too simplistic. After we played it for a while, I decided I liked it. Karl Denson takes an overblowing, overtoned flute solo, reminding me of Rahsaan Roland Kirk.
"Jungle Fiction" This tune started out a few years ago when the younger (than me) musicians I played with started to play drum n' bass or "jungle beat" at a rehearsal. I really wanted to explore this style because I like the fast tempos. The tonalities are very major, a departure from the minor and bluesy sounds of the rest of the album. I'm proud of this one.
"I Brake For Monster Booty" Everybody brought in their own part here. We just started this jam at the beginning of a long tour and it developed over a few months. There are memorable double rhythm guitar parts between Avi and me—I love the way the two guitars work here. I think it's the funkiest track on the record.
"Animal Farm" I wrote this one. It was a "normal" tune until Medeski played in the studio with us and it developed into the barnyard cacophony that it is now. The "dying goose" sound is my guitar sampler—with apologies to geese everywhere.
"Offspring" I wrote this on the first day of Spring. It's jazz but it also rocks. What we're doing during the guitar solo is a fine example of us playing together as a quartet—a loose, live feel. It's all really spontaneous.
"Tomorrow Land" Avi brought in this tune. It has a country-soul feel that's very "back porch"—warm and rhythmic. This tune stands out from the other material—a rest stop in the middle of the funk.
"überjam" This is the archetypal jam composition of the album. We started jamming on it about three years ago. Everybody put in their two cents and eventually "überjam" was created. It has six composers. Somehow "Blue Moon" worked its way in and became an integral part of the song. This is what puts the "jam" into this band!
"Polo Towers" I wrote this while playing a week in Las Vegas—not exactly the jazz capital of the world. If there's one thing people don't want after a long day of gambling—it's an evening of progressive jazz with long solos! Jesse and Adam lock in to the best hip-hop groove of the album. Karl uses a weird 1960's electronic sax device that is totally warped.
"Snap, Crackle, Pop" Adam Deitch provides the snap, crackle, and pop here. The actual composition is a little bit schizo with a lyrical melody over the super-groove. Avi's rhythm guitar breaks demonstrate why Charlie Hunter calls him the greatest rhythm guitar player in the world. This one makes me want to dance.
"Lucky For Her" This is the first song we play at our concerts and we've come full circle putting this at the end of überjam. It begins with a mechanical hodgepodge and my "Lucky" melody that evolves into Avi and Jesse locking into some super-funk. I love the way machines, guitars, and drums meet on this song.