Sally Van Meter & Local Jon Ridnell to Team Up at NedFest 2013
Submitted by NedFest on Wed, 05/22/2013 - 09:35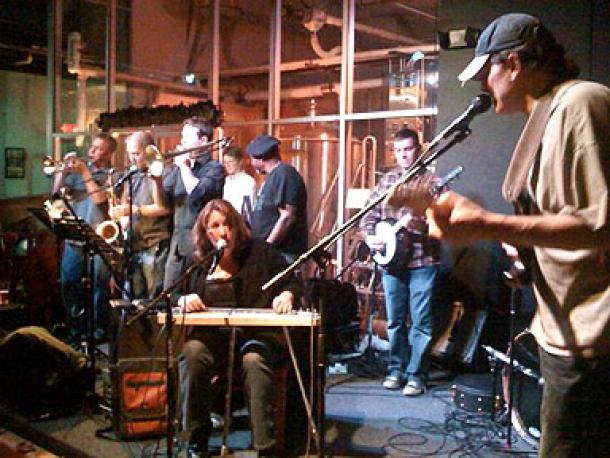 Famed slide guitar player Sally Van Meter and Nederland's best performing guitarist Jon Ridnell, more commonly known as Blackdog, have teamed up with the amazing bassist Kerwin Brown and drummer Dean Oldencott lately for some great music as RIDNELL VAN METER, and we're looking forward to what they have in store for us this year on Sunday at NedFest!
Sally is well known for her performances & recorded works ranging from solo work to collaborations with artists such as Jorma Kaukonen, Jerry Garcia, David Grisman, Chris Hillman, Jerry Douglas, Mary Chapin-Carpenter, Taj Mahal, Peter Rowan, Tony Rice, and Ned favorites Yonder Mountain String Band and Leftover Salmon. In 1995, Sally joined with David Grisman and Jerry Garcia for a special project, The Songs of Jimmie Rodgers-A Tribute produced by Bob Dylan. She was a featured performer on The Great Dobro Sessions (producers Jerry Douglas/ Tut Taylor), which earned the 1994 Grammy Award for Best Bluegrass Recording. In addition, Sally's solo album All In Good Time was a finalist nominee for the International Bluegrass Music Awards (IBMA) Instrumental Album of the Year. She was an IBMA Finalist Nominee for Dobro Player of the Year 7 times and in 1996 won two IBMA awards, for Best Instrumental Recording and Recorded Event of the Year (The Great Dobro Sessions). Film and television credits include the film Gather at the River, and the celebrated CBS' Northern Exposure. From 1977 -1996, Sally was a member of the Good Ol' Persons. For nearly three decades, Sally's musical journeys have taken her from the US to the United Kingdom, Europe and Japan. These days Sally resides in Colorado. Alongside touring, you can find her wearing the Producers Hat producing recordings for national touring acts that include The Yonder Mountain String Band and the Open Road Bluegrass Band.
Jon Ridnell is one of the most well-known musicians in Nederland and surely one of the hardest working ones. He plays over 250 shows a year and has been for twenty years. He plays with several different bands of widely varying genres in addition to Ridnell Van Meter, including New Family Dog with his sons. He has put out at least twelve albums, solo, with his Blackdog band, and other collaborations.