Santah to Perform at This Week's CMJ Marathon
Submitted by Solid PR on Tue, 10/18/2011 - 16:08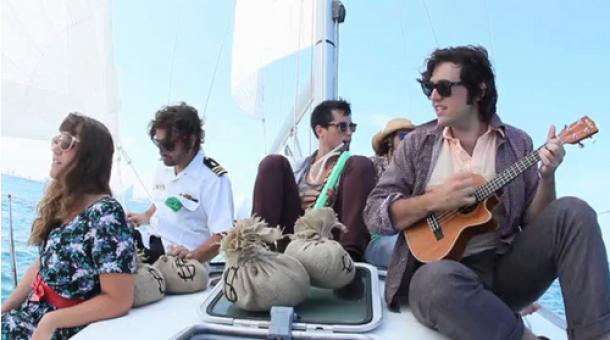 In support of their debut album "White Noise Bed" (out now on No Sleep Records) and their upcoming appearances at this week's annual CMJ Music Marathon in New York (specifically tomorrow's joint showcase with PASTE Magazine Rdio Showcase), Chicago psychedelic pop band Santah have premiered the new video for their song "Neighbors and Cousins" at PasteMagazine.com.
"Neighbors and Cousins" was shot on Lake Michigan by director Elijah Alvarado who says "the video is kind of inspired by the simplicity of the 90's pop-band music video. We just went out on a sail boat and had a great time."
In addition, the band has also recently premiered their new Daytrotter Session which fans can listen to here.
--
Santah Live
19-Oct: PASTE Magazine and Rdio Afternoon Delight New York #
20-Oct: CMJ Showcase @ Rockwood Music Hall New York
22-Oct: CMJ RWIM Showcase @ Sullivan Hall New York
23-Oct: Richmond, VA The Camel *
24-Oct: Charlottesville, VA The Box *
25-Oct: Durham, NC Casbah *
26-Oct: Charleston, SC Village Tavern *
27-Oct: Louisville, KY Zanzabar *
28-Oct Chicago, IL Subterranean *%