Scott Kempner Finishes First Solo Album in 16 Years
Submitted by press on Fri, 02/29/2008 - 09:26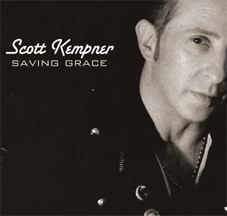 This is a rock 'n 'roll album . . . if that means anything to anyone anymore," says Scott Kempner of his forthcoming album Saving Grace (00:02:59 Records, street date June 10, 2008). "It sure as hell means something to me !" Kempner's rock 'n' roll career dates back 30 years to his stint as co-founder of The Dictators (when he was known as "Top 10") and later the Del-Lords, who in turn inspired the comeback of Dion, with whom Kempner recorded as the Little Kings. That's a lot to look back on — and Kempner can reminisce with the best of 'em — but he is squarely focused on the present and the future.
 
"This album is the first record in my career that I feel 100% about," says the South Bronx native, who was born the year Elvis Presley recorded his first Sun Records single. "It's who I am, for better or worse." The album, his first solo work since 1992's Tenement Angels (which featured Springfield, Mo.'s mighty Skeletons), includes no other guitarists — Kempner plays all parts. However, he did surround himself with an array of kindred musicians: Del-Lords drummer Frank Funaro, Smithereens bassist Mike Mesaros, Chris and Mike Russo, Chris Amplo, and last but not least Dion, with whom he sings "Heartbeat of Time." Recorded mainly at Coyote Studios in Brooklyn's Williamsburg district, Saving Grace was co-produced by Kempner and Mike Caiati.
 
For two tracks — "Heartbeat of Time" and "Here Come My Love" — Kempner headed to Nashville's Java Jive to work with producer and friend Ed Pettersen (Song of America ) and Bob Olhsson (former Motown engineer). These sessions featured Motown and Nashville session stalwarts Bob Babbitt, bass, and Ed Greene, drums. Kempner ended up with three albums' worth of material, the best of which he selected for Saving Grace .
 
The road to Saving Grace was a rough one. While making the record, Kempner went through a terrible breakup and a life-changing long-term illness. Now, clarity, health and happiness have been restored. Kempner has a band he's pleased with. And he's headed to the road this summer and fall.
 
A few other reasons to be cheerful found Kempner along the way. He's the subject of a documentary film now in progress; The Del-Lords' EMI/Enigma albums are soon to be reissued on the American Beat label; and the legendary Norton Records label is about to release Every Day Is Saturday — an anthology of The Dictators' unreleased odds and sods.
 
"Rock 'n' roll is a living history and I feel connected to this music," says Kempner, "I feel connected to Robert Johnson and Woody Guthrie and Elvis Presley, to the Beatles, Bob Dylan, Otis and Aretha, to the Stooges and Bruce Springsteen. I have staked out a claim to the music's past, present and future. This is where I find my voice, my own expression, my little shout-out to the world.
 
"Hopefully the ghosts of all my heroes will come dancing right in your living room when you hear the new record. American guitar music. Rock 'n' roll. Don't tread on me!"