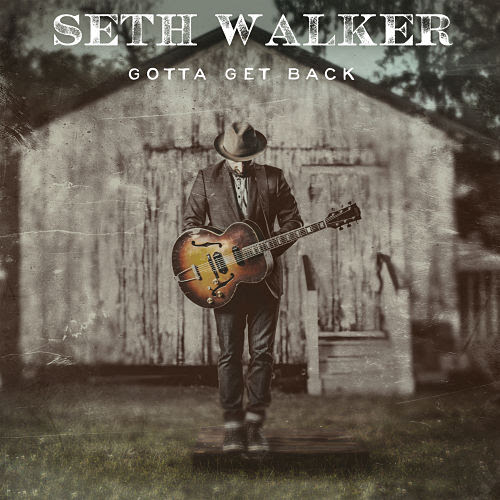 Seth Walker has announced his new studio album, Gotta Get Back, will be released September 2 via Royal Potato Family. Produced by Jano Rix of The Wood Brothers, the 12-track collection excavates the roots of his love affair with music, reuniting the family that helped spark the fire in him all those years ago. Walker, who grew up on a multi-family commune in North Carolina, gathered his sister along with his parents, who had been divorced for 20 years, to record the album's beautiful, sweeping string parts, all of which were arranged by his father.
"I wanted to see if we could throw our worlds together," says Walker. "It was very special to me for them to be able to put everything else aside so we could play music together for the first time in so many years."
The first studio release since Walker's acclaimed 2014 effort 'Sky Still Blue,' he recorded 'Gotta Get Back' primarily at Zac Brown's Southern Ground studio in Nashville. The resulting collection is as eclectic as anything in Walker's celebrated career. The album opens up with the funky "High Time," a song co-written with longtime collaborator Gary Nicholson and referencing Walker's newly adopted home of New Orleans, which proved to be a fount of inspiration for the songwriter, who penned a number of tracks there including the swampy "Fire In The Belly" and Caribbean-influenced "Dreamer." On "Back Around," a collaboration with Oliver Wood, Walker channels his love of classic gospel, while "Movin' On" melds elements of country, soul, and Paul Simon-esque folk, and "Way Past Midnight" utilizes dual drummers to capture the buzz of and excitement of his first trips to New York City. Though travel and movement are recurring themes throughout the record, the heart and soul of the album lay in the idea of home and family, of looking to the past in order to find your way into the future. Or as Walker sings on the title track, "I've gotta get back / Before I can move ahead," and he does both here with startling beauty and striking sophistication.
"Jano, as a producer, has a gift of allowing music to 'unfold,' and it's a beautiful thing," says Walker. "It's a mysterious, elusive endeavor. It's kind of like holding a bird in your hand: not too loose and not too tight. We covered some ground stylistically with this album, and his sense of sound, vibe, and composition was paramount in making it cohesive, as was our engineer, Mike Poole. He's all about capturing a performance and understanding the balance of musicality, sonic fidelity and unpolished, undeniable grease."
The record marks the ninth release in Walker's extensive catalog, which has garnered critical acclaim around the world for nearly two decades. NPR hailed his "hard-driving" songs and "sweet tenor," while the Washington Post praised his "soulful croon," and the Wall Street Journal fell for his "tasty mix of blues and R&B." He cracked the Top 20 on the Americana Chart and toured the world countless times over, from festival stages to dates with The Mavericks, The Wood Brothers, Raul Malo, Paul Thorn and Ruthie Foster, among others.
Tour Dates
July 1 - Zionsville, IN - Free Range Concerts
July 2 - Valparaiso, IN - Taltree Arboretum & Gardens
July 15 - Dallas, TX - Gas Monkey *
July 20 - Santa Rosa Beach, FL - Alys Beach Concert Series
July 22 - Monroeville, AL - Cotton Pickers Songwriting Series
July 23 - Columbus, GA - The Loft
August 19 - Jersey City, NJ - The Parlour at Fox & Crow
August 20 - Philadelphia, PA - World Cafe Live **
August 27-28 - Ontonagon, MI - Porcupine Mountains Festival
September 6 - Richmond, VA - Capital Ale House
September 7 - Roanoke, VA - The Spot on Kirk
September 8 - Asheville, NC - Isis
September 9 - Hickory, NC - Sails Music Series
September 10 - Charlotte, NC - Evening Muse
September 16 - Decatur, GA - Eddie's Attic
September 17-18 - Bristol, TN - Bristol Rhythm & Roots Reunion
October 23 - Montgomery, AL - Capital Oyster Bar
October 30 - Poconos, PA - Poconos Music Festival
November 30-December 6 - La Habana, Cuba - Fabrica de Arte Cubano
* w/ Cas Haley
** w/ Blind Boys of Alabama
Promoted on slideshow
Off