Shadow Shadow Shade Release White Horse Trilogy & Debut Album
Submitted by mike on Wed, 09/15/2010 - 01:18
Los Angeles' majestic septet Shadow Shadow Shade (formerly known as Afternoons) are prepping the release of their eagerly awaited, self-titled debut release.  Those who have seen their acclaimed live show know what to expect:  a lush sound that is both grand in spectacle and remarkably intimate.  With seven members that often sing in unison, the group's haunting melodies sculpt an ethereal, choir-like effect.  Shadow Shadow Shade will be released on October 5th through the group's own label, Public Records.  It will be available via Junket Boy and at CIMS stores nationwide as well as select additional indie outlets.  It was produced by Grammy-winning Producer/Mixer/Engineer/Musician and SSS member, Tom Biller (Karen O, Liars, Jon Brion, Sean Lennon, Kanye West).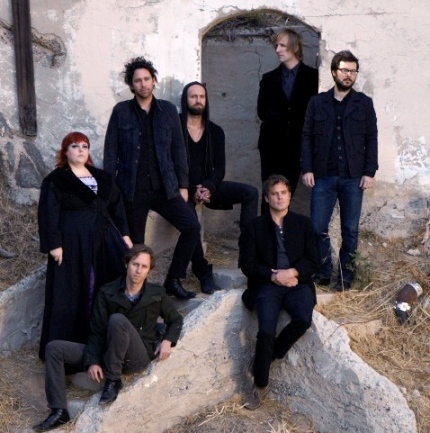 Before the album is released the band is unveiling the three-part epic, post-apocalyptic short film known as the White Horse Trilogy that features several of their songs.  The clip stars Jason Ritter (of NBC's upcoming drama "The Event") and Anna Wilson.  White Horse's director Michael Graham describes it as "an existential science fiction film that personifies and investigates the inner struggle one might go through under the distress of being ripped apart from their lover by the current world they live in, most importantly - war."  The film is set in the future during World War III, when an unknown force has enslaved the human race.
SSS began as an art project amongst likeminded friends before evolving into an actual band that performed and recorded.  Upon hearing their demos, artist Shepard Fairey became one of the band's early supporters  He soon designed posters for them that ended up getting plastered all over their hometown of LA.  After playing just one show, the group was offered the coveted residency at Spaceland and subsequently sold out all four weeks – this led to the SSS being invited to perform at IFC's 2010 SXSW Showcase.
The group has created a stirring pastiche of sounds that takes cues from traditions such as psychedelia, orchestral music, shoegaze, opera, and indie rock among others.  Their enigmatic lyrics seem to have been plucked from a classic, timeless novel that hasn't been written yet, and every song they compose builds towards a thrilling catharsis.  Click HERE to stream/download the mp3 for the album's first single, "Say Yes."
Shadow Shadow Shade Tour Dates:
10/8 - Santa Cruz, CA @ Rio Theater
10/10 - Portland, OR @Mississippi Studios
10/11 - Seattle, WA @ The High Dive
10/13 - San Francisco, CA @ Red Devil Lounge
10/14 - Los Angeles, CA @ Echoplex
10/15 - San Diego, CA @ Soda Bar