Shannon Whitworth & Barrett Smith Release "Bring It On Home"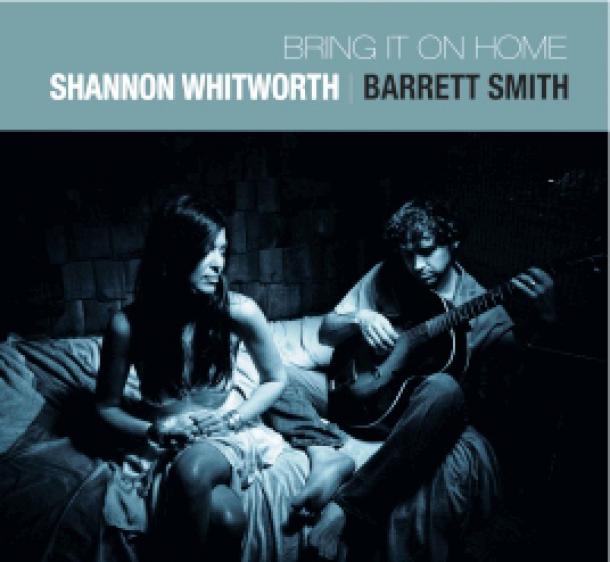 In this eclectic album, Shannon and Barrett take turns singing lead, backing each other on harmony vocals, and playing various instrumentations with Shannon on ukulele, banjo and Barrett on electric and acoustic guitars, upright bass, and piano. Recorded in Asheville's Echo Mountain Recording Studio with a team of talented friends and musicians from the Asheville area including Legendary drummer Jeff Sipe (Aquarium Rescue Unit, Leftover Salmon) and master multi-instrumentalist Mike Ashworth fas the core rhythm section. Justin Ray and Jacob Rodriguez took a break from touring with Michael Buble to contribute on trumpet and saxophone. Virtuoso bluegrass fiddlers Nate Leath and Nicky Sanders (Steep Canyon Rangers) adds violins to Melissa Hyman's cello lines while Michael Libramento, of Grace Potter and the Nocturnals, plays keyboards.
In recording Bring it on Home, the Shannon and Barrett looked to songs that inspire them, and hope to pass that inspiration on.
1)
Bring It On Home To Me
(Sam Cooke)
2)
Moonglow (
Delange, Mills, Hudson)
3)
You Can Close Your Eyes
(James Taylor)
5)
I Get Ideas (When We Are Dancing)  
(Sanders, Cochran
7)
Sway
(Molina, Ruiz, Gimbel)
8)
Bird On The Wire
(Leonard Cohen)
l
9)
Corcovado (Quiet Nights)
(A.C. Jobim, Gene Lees)
10)
Green Grass
(Tom Waits, Kathleen Brennan)
11)
I'll Be Your Lover, Too
(Van Morrison)
12)
You Are My Sunshine
(Jimmie Davis)