Shook Twins Add Fall Tour Dates, Release New Song Premiere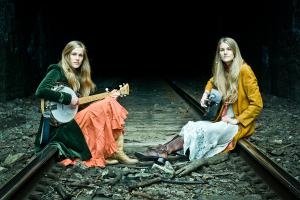 Right in the midst of a fabulous summer festival season, Portland Oregon-based Shook Twins have just announced the addition of late summer and early fall tour dates to their already stacked calendar and a new song/video premiere. A first time tour to the Midwest and South in late September and for the entire month of October, will bring the groups trademark "eclectic mix of folks, roots, pop and fun" to a whole new audience. Dates added include visits to familiar strongholds at Missoula Winery & Event Center in Missoula, MT on Sept. 18th, a visit to their home state of Idaho in Boise at The Egyptian Theatre on Sept. 20th and The State Room in Salt Lake City on Sept. 21st. New forays find the group venturing throughout MN, IL, IA, WI, OH, TN, NC, GA and Arkansas. Highlights include stops at Boats and Bluegrass Festival on Sept.28th in Winona MN, A Daytrotter Session in Rock Island IL, The Bubble Music Festival in Madison, WI on Oct. 4th , Music City Roots – Live from the Loveless Café Barn in Nashville TN on Oct. 16th , and October 17th - 20th at Yonder Mountain Harvest Festival in Ozark, AR. The group will wrap up the month of October with some select dates in Colorado.
To celebrate the summer season, Shook Twins just released a new song/video premiere on Relix of "Holler It Down" from their forthcoming new album. The tune was written by violinist and band member Anna Tivel (Anna and the Underbelly) and videotaped as part of the "Humboldt Live Sessions" by Chuck Johnson in Humboldt County California. This past May the group headed into the studio with Grammy nominated producer Ryan Hadlock (The Lumineers, Milo Greene), and spent three weeks immersed "in the music," at Hadlock's renowned Bear Creek Studios in Woodinville WA. Shook Twins anticipate releasing the new material tentatively titled "What We Do" in Winter 2014.
Summer/Fall Tour 2013
Aug 10-11 - Summer Meltdown, Darrington, WA
Aug 13-14 - Adrift Hotel - Long Beach, WA
Aug 18 - Crystal Ballroom - Portland, OR
Aug 23 - Green Show Concert Series - Ashland, OR
Aug 24 - Ventis Cafe & Taphouse - Salem, WA
Aug 25 - Eugene Celebration - Eugene, OR
Sept 6-8 - Sisters Folk Festival -Sisters, OR
Sept 14 - Newport Music Festival - Newport, WA
Sept 18 - Missoula Winery & Event Center – Missoula, MT
Sept 20 - Egyptian Theatre – Boise, ID
Sept 21 – The State Room – Salt Lake City, UT
Sept 22 - Sunday Afternoon Blues, Brews & BBQ - Huntsville, UT
Sept 25 - House Concert – Omaha, NE
Sept 26 – Maximum Ames Music Festival – Ames, IA
Sept 27 - Daytrotter Session – Rock Island, IL
Sept 28 - Boats and Bluegrass Festival - Winona, MN
Oct 4 - The Bubble Music Festival – Madison, WI
Oct 5 - The Uncommon Ground – Chicago, IL
Oct 6 – Irving Theater – Indianapolis, IN
Oct 7 - MOTR Pub – Cincinnati, OH
Oct 10 - Preservation Pub (2nd Floor Speakeasy) – Knoxville, TN
Oct 11 – Evening Muse – Charlotte, NC
Oct 12 – Jack of the Wood – Asheville, NC
Oct 15 - Smith's Olde Bar – Atlanta, GA
Oct 16 – Music City Roots – Live from the Loveless Café Barn – Nashville, TN
Oct. 17-20 - Yonder Mountain Harvest Festival - Ozark, AR
Oct 24 - Avogadro's Number – Fort Collins, CO
Oct 25 - The Walnut Room – Denver, CO
Complete tour and show info is available at: http://www.shooktwins.com