Shop, Eat & Drink @ The 7th Annual Bust Magazine Craftacular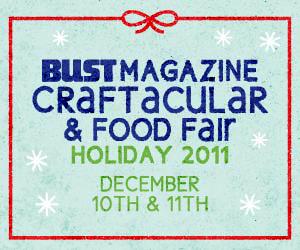 BUST Magazine is thrilled to announce their return to SoHo forthe 7th Annual BUST Magazine Craftacular and Food Fair Holiday 2011. For the first time ever, the event will run for two days. With over 200 craft and food vendors per day, the event offers a haven for more than 6000 attendees to warm up with specialty tasty treats and unique handcrafted holiday gifts.
And for the first time visitors will also be able to handcraft a few gifts of their own. At The BUST DIY Guide To Life Lab, classes and demos will give shoppers the chance to try their hand at craft projects excerpted from the recently released book, "The BUST DIY Guide To Life"! Attendees will be able to make their own tiny terrarium, create a snowglobe, learn how to make bath bombs, discover how mozzarella can be made in a microwave, and more, all for free or a nominal fee. Book co-authors and BUST Co-publishers Debbie Stoller and Laurie Henzel will be on hand to lead classes and sign copies of their book, which will also be available for purchase.
With a wide variety of artisanal treats and handmade crafts, gift-making classes and demos, DJs spinning music, raffle prizes, and free goodie bags for the first 300 people at the door each day, The BUST Magazine Craftacular and Food Fair Holiday 2011 is the ideal destination for shopping, eating, crafting, and a whole lot of fun.
The 7th Annual BUST Magazine Craftacular and Food Fair Holiday 2011
will take place at 82 Mercer Street on:
Saturday, December 10, 11am-8pm
Sunday, December 11, 11am-7pm
Entrance Fee: $3.00