Sidi Touré Releases New Album, 'Sahel Folk'
Submitted by mike on Wed, 10/06/2010 - 22:41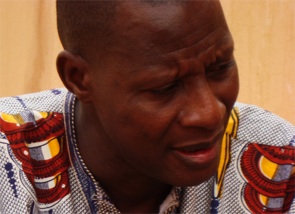 Sidi Touré, born in 1959 in the ancient town of Gao, Mali, made his first guitar as a child, constructing it from his wooden writing slate. Growing up, Sidi Touré faced a conflict between the inexorable pull of music and the expectations of family and society, plus the significance and onus of a past that came with being born into a noble family. The Touré family had been sung about, and sung to, by traditional griots for centuries, but until Sidi Touré challenged the rules as a small boy, the Touré's did not sing. Despite his family's disapproval, Sidi became the lead singer of his school's band, and then became the youngest member of Gao's regional orchestra, the Songhaï Stars, who played bi-annual festivals like the Bamako Biennale and toured both regionally and nationally. After winning the award for best singer twice, he took the band to the northern regions of Mali and to Niger, and toured much of the western Sahel region. Throughout his time making music, Sidi's sound has both captured and challenged his roots. His music moves from the translucent swaying takamba to the trance inducing Holley, while the lyrics often address many non-traditional issues. Sidi has a critical mind and his songs have a purpose.
At its heart, Sahel Folk, Thrill Jockey's debut release with Sidi Touré, is an album of friends reuniting around a glass of tea. It's Sidi Touré's second album, but the first time most of his collaborators have been documented. Chronicled in a live "field-recording" style at Sidi's sister's house, the simplicity of the takes highlight the beauty of the songs and the skill of the players. Each track on the album is a duet recording of Sidi and one friend, a product of a very specific two-day process. On the first day, the friends would meet, play, and choose a song over a glass of tea. On the second day they would record the song, allowing themselves just two takes to retain the spontaneity of the recording and reunion. It was the original intent of Covalesky, the album's producer, to create an historical document about the traditions of Gao, and to mix the audio of Sidi and his friends' songs with street recordings and interviews. However, once the recording started, everything changed. Covalesky puts it best when he says "In the face of such beauty and power delivered so simply by Sidi Touré and his friends, there was nothing to add. Everything was there."
Thrill Jockey Records is honored to be releasing Sidi Touré's second album, Sahel Folk, due out January 25, 2011.