Sister Sparrow & The Dirty Birds to headline shows this month in NYC & DC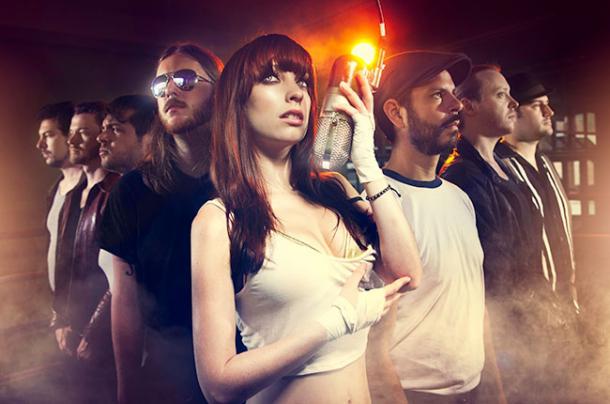 Sister Sparrow & The Dirty Birds is an eight-piece powerhouse that puts a modern spin on classic soul. The band is led by Arleigh Kincheloe (Sister Sparrow), whose astoundingly powerful voice and sly demeanor make for a spellbinding presence onstage. She is backed by the mighty force of The Dirty Birds, a flock of seven men who masterfully lay down thundering grooves and soaring melodies. While each of the Birds are capable of lighting up the stage with jaw-dropping displays of musicianship, it's clear they're focused on delivering the band's infectious music as a single entity. Simply put, the band's live show is explosive. They debuted new material as official performers of this year's SXSW and were well received. Their blend of seductive soul and dirty blues-rock will remind audiences that great live music still exists.
Their October 2013 EP Release Fight was produced by the legendary Randy Jackson. As quoted by Billboard, "The Fight EP is a collection of four songs that truly captures who we are as a band right now. It takes you from a burning ballad to a sweaty dance party to a classic story of betrayal with 'The Long Way.' The focus of the recording process was to harness the high energy of our live shows, and Randy really helped make that happen," added Kincheloe."
For even more soul, the band's Kadmus Arts Podcast is worth the listen.
Their extensive touring journey continues. 
 April 30 / New Orleans, LA / Freret Street Publiq House
May 3 / New Orleans, LA / Backbeat Jazz Series @ Blue Nile
May 10 / Scranton, PA / Susquehanna Breakdown
May 16 / Buena Vista, NJ / Camp Jam in the Pines
May 30 / Washington, DC / The Hamilton
May 31 / New York, NY  / Bowery Ballroom
June 6 / Norfolk, CT / Infinity Music Hall
June 7 / Hunter, NY / Mountain Jam
June 13 / Philadelphia, PA / Underground Arts
June 14 / Hamden, CT / The Ballroom at The Outer Space
June 20 / Portland, ME / Port City Music Hall
June 21 / Cambridge, MA / The Sinclair
June 28 / Rothbury, MI / Electric Forest
July 2 / Sturgeon Bay, WI / Harmony by the Bay
July 3 / Algoma, WI / Concerts In The Park
July 10 / Nashville, TN / Nashville's Dancin'
July 11 / St. Louis, MO / Broadway Oyster Bar
July 18 / Calgary, AB / Stampede City Sessions
July 20 / Alta, WY / Targhee Fest
July 23 / Casper, WY / Nicolaysen Art Museum
July 24 / Park City, UT / Newpark Town Center
August 1 / Mammoth Lakes, CA / Mammoth Festival of Beers
August 2 / Petaluma, CA / Petaluma Music Festival
August 7 / Bethlehem, PA / Musikfest
August 15 / Asbury Park, NJ / Wonderbar
August 16 / Cockeysville, MD / Hot August Music Festival
September 13 / Danville, IL / Phases of the Moon Festival
November 14 / Live Oak, FL / Bear Creek Music & Art Festival