Slash: Apocalyptic Love | New Music Review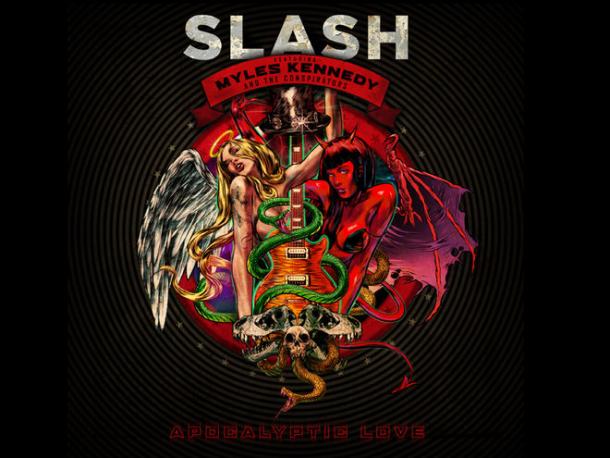 On his second solo release, entitled Apocalyptic Love, Slash shows us that he can still shred the guitar like a beast. Did we ever have any doubt? From Guns N' Roses to Velvet Revolver, the man has expertly showcased why he was chosen as runner up in Time's "The 10 Best Electric Guitar Players." His solos and riffs are legendary, and he has become one of the best known guitar acts internationally.
The album comes out strong right from the start with the hard-hitting title track, Slash's melody soaring over a well put together foundation provided by his band Myles Kennedy and the Conspirators. I will say now that I am not a huge fan of Myles Kennedy's vocals. He has a high vocal register, with a nasal tone that can't help but hearken back to Axl Rose, especially when supported by Slash's guitar playing. If Slash is trying to distance himself from his sound on the Guns N' Roses material, this record falls short of the mark. From the ballads to the heavy rock riffs, the music screams GnR. It also, however, screams Slash, which is awesome because he is indeed a remarkable and virtuosic guitar player. During the second track, "One Last Thrill," he shreds a solo fit for the record books as one of his best. His playing will put a smile on the face of any rock fan looking to have said face fully melted off.
I think that the record gets fully rip-roaring starting with the third track, called "Standing in the Sun," a darker song in which Kennedy showcases his talent with a lower register, giving the ambiance of a musical world Guns N' Roses never explored. From that point, the music gets more and more interesting, Slash's guitar styling more and more revolutionary. The highlight of the album for me is "We Will Roam." The intro hook is by far the funkiest thing I have heard Slash play, and it definitely got my attention.
There are a couple of ballads on the record too. It's not all hard rock and roll. Songs like "Not For Me," and "Far and Away" provide a more sentimental atmosphere that I think contrasts very well with the rest of the music. Over all, the album is a good collection of songs that showcase Slash's ability not only to provide one of the most rocking lead guitar roles of all time, but also to lead a band. It is quite a change from his previous, self-titled, solo album, which was more of a high-energy hodgepodge of guest performers, certainly not without its merits, but Apocalyptic Love seems to be more of a personal and independent release.