Sleepy Sun Announce MORE US Tour Dates
Sleepy Sun
is a California band from many Californias. They hail from the rolling oak and sage hills of Sierra Gold Country, The San Francisco Peninsula, where Kesey raged and
the Dead
were once
Warlocks
, and the forever-sunshine climes of the Southland.  They came together—young and garage strutting in the coastal Northern California crucible of Santa Cruz. And there they birthed the Sleepy sound—dead blues shaken alive, razor sharp and ramblin', soul, sonic science and dead-on pop surgery. Wooden, earthy, stratospheric, and swinging…California music of beautiful contrasts for conflicted times.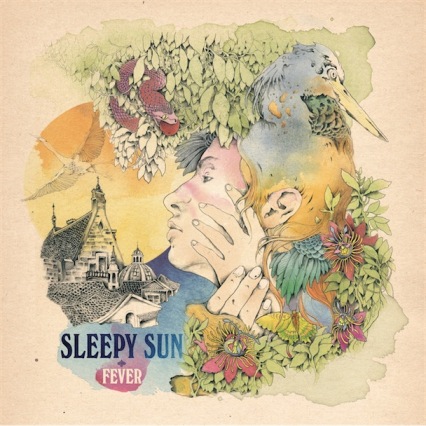 Now, two records into a frighteningly fast-blossoming evolution, 
Sleepy Sun
are a living machine of fire and focus. Their first release on ATP records 
Embrace
illuminated the golden path to Sleepy land—hard-riffing, delicate, dreamy and cultivated. The latest ATP release, 
Fever
, is arrival at the palace the path promised.
Fever is the honey harmonies and danger wailing of Bret Constantino and Rachel Williams pulled from a tender tangle into steel-strong braid; the wing-on-wing guitars of Matt Holliman and Even Reiss in screaming dives and sweet ascending circles; the lowdown served up tough and thundering from drum and bass authorities Brian Tice and Jack Allen.
Fever
is a band working, like the heroic combos of old—real, made by hand, eyes ahead on an unbridled future and giving two shits for the sideways glance of the lurking trend spotter.  A band working, and a working band—
Sleepy Sun's
soaring and soul-stirring live shows are already mowing down audiences on both sides of the Atlantic.  They've opened for
Autolux
and
Mudhoney
, rocked
Primavera
and
Treasure Island
, and relentlessly toured the capitals and humble hamlets of North America and Europe. And in their path, the converts are fast becoming legion.
They are a band of musical adventure too—tackling
Graham Nash's
'Chicago' for a forthcoming compilation celebrating the
Hollie/CSNY
legend's work. English electronic collective U.N.K.L.E. have taken note of 
Sleepy Sun's
eclectic energies as well, working collaboratively on a track with the band for an upcoming single and LP. 
Sleepy Sun
won't relent in 2010. 
Fever
in May,
SXSW
and the
Arctic Monkeys
in spring. And as always, a hundred twists yet untold in a message—sent with burning love and rock-solid soul—from California to the whole damn beyond….
Also....ATP Recordings will be releasing a limited edition EP to celebrate Record Store Day on April 17th featuring tracks from Built To Spill, Apse,
Sleepy Sun
and Fursaxa. Limited to just 1000 copies worldwide, the 10" will feature tracks from recent and soon to be released albums on ATP/R.
Each EP will come with a coded card allowing free downloads of MP3's of the 4 tracks as well as some bonus download only tracks from other ATP Recording artists such as Fuck Buttons (Olympians radio edit), The Scientists (We Had Love), Alexander Tucker (Veins to the Sky) and The Drones (River of Tears).
North American Tour Dates

4/11 - The Pageant - St Louis, MO  w/ Arctic Monkeys
4/10 - Al's Bar - Lexington, KY
4/12 - Liberty Hall - Lawrence, KS  w/ Arctic Monkeys
4/13 - Cain's Ballroom - Tulsa, OK  w/ Arctic Monkeys
4/15 - Marquee Theater - Tempe, AZ  w/ Arctic Monkeys
4/16 - House of Blues - Las Vegas, NV  w/ Arctic Monkeys
4/23 - Pitzer College Kohoutek Music & Arts Festival - Claremont, CA
4/24 - Rickshaw Stop - San Francisco, CA
6/11 - Lincoln Lounge -
Reno, NV
6/12 - Kilby Court -
Salt Lake City, UT
6/13 - Hi Dive Club -
Denver, CO

6/15 - Record Bar -
Kansas City, MO
6/16 - Off Broadway Night Club -
St Louis, MO
6/17 - Summit Club -
Columbus, OH
6/18 - Mohawk Place -
Buffalo, NY
6/19 - Brooklyn Bowl -
Brooklyn, NY

6/21 - Il Motore -
Montreal, QC
6/22 - Horseshoe Tavern -
Toronto, ON
6/23 - Magic Stick -
Detroit, MI
w/ Rodriguez
6/24 - Double Door -
Chicago, IL
6/25 - The Cactus Club -
Milwaukee, WI
6/26 - 7th Street Entry -
Minneapolis, MN
6/27 - Aquarium (6pm Early Show All Ages) -
Fargo, ND
w/ Deerhoof
6/27 - Aquarium (11:30pm 21+ Show) -
Fargo, ND
6/28 - Royal Albert Hotel -
Winnipeg, MB
w/ Black Mountain
6/29 - Amigo's -
Saskatoon, SK
6/30 - Pawn Shop -
Edmonton, AB
7/1 - Sled Island Festival at Palomino -
Calgary, AB

7/3 - The Biltmore Cabaret -
Vancouver, BC
7/4 - Logan's Pub -
Victoria, BC

7/6 - Chop Suey -
Seattle, WA 
w/ Sleepy Eyes of Death
7/7 - Mississippi Studios -
Portland, OR