Sonny Rollins Book Event: Saxophone Colossus
Submitted by press on Thu, 09/09/2010 - 21:48
Jazz legend Sonny Rollins celebrates his 80th birthday this fall, and Saxophone Colossus has been published to mark this occasion and honor his incredibly prolific career. This intimate appreciation combines the images of John Abbott, who as Rollins' photographer of choice for the past 20 years has captured the saxophonist at home and at work, and the essays of Bob Blumenthal, a jazz critic who has chronicled Rollins and his art for nearly four decades.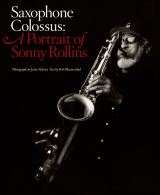 Sonny Rollins has been at the center of jazz and its evolution virtually from his birth. Growing up in Harlem in the heyday of swing and coming of age as the first wave of modernists announced their discoveries, he quickly found himself sharing bandstands with his idols and making music of his own that continues to influence and inspire. Saxophone Colossus, named for the 1956 masterpiece of the same title, is Abbott and Blumenthal's tribute to Rollins' music and spirit.
John Abbott's award-winning jazz photography has been featured on more than 250 album and magazine covers. He has been the primary cover photographer for JazzTimes magazine since 2003. Bob Blumenthal is the winner of two Grammy awards and a Lifetime Achievement Award from the Jazz Journalists Association.
Saxophone Colossus: A Portrait of Sonny Rollins Photography by John Abbott Text by Bob Blumenthal
Published by Abrams
Book Signing/Author Event
John Abbott, Bob Blumenthal and Sonny Rollins HIMSELF will be at Barnes & Noble in Tribeca/NYC to sign books and give a talk and slide
show about the new book Saxophone Colossus: A Portrait of Sonny Rollins.
Tuesday September 14, 2010 7:00 PM
Barnes & Noble Bookstore in Tribeca
97 Warren Street, New York, NY 10007, 212-587-5389
Please call the store for event rules and restrictions.