Sophistafunk Announces Coast-to-Coast Fall Tour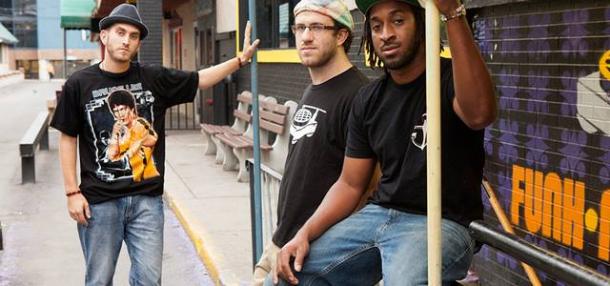 Starting off Summer 2013 by playing at the International Home and Housewares Convention in Chicago, specially invited by celebrity chef Guy Fieri, Sophistafunk kept the fire roaring all summer long, packing venues and festivals both nationally and internationally. From VT Reggae Fest, Syracuse Jazz Fest and Finger Lakes GrassRoots Festival to Jersey Shore Festival, the Syracuse-based group closed out the summer with their first ever international tour through the UK, including appearances in Bristol and Newcastle, England, to Wales and the world renown Shambala Festival.
Sophistafunk is ready to continue onto their third coast-to-coast tour in the past 12 months, kicking it off in Spencer, IN at Hyperion Festival on Sept. 6th and will travel through the Midwest onto the Rocky Mountains and San Francisco. The act will then cruise up the West coast to Seattle before heading back East with appearances slated through the Midwest en route to Harmony, ME for the Halloween Hash Bash and finally, DROM on Nov. 2nd in New York City with friends, Consider the Source.
Fans nationally, and now worldwide, have grown to love and appreciate the unique sound and high-energy of this act; Sophistafunk is surely not a band to miss. This analog soul trio includes MC Jack Brown on vocals, Adam Gold on the keys, bass, and vocals and Emanuel Washington on drums. Influenced by A Tribe Called Quest and Parliament Funkadelic, among others, Sophistafunk blends hip-hop, funk and rock to create unique, cross-genre music that is sure to keep you dancing and smiling all night long.
"Sophistafunk has a genre-destroying range of musical ability and mix of socially-conscious lyrics. Much of the trio's set was spent rifling through thick instrumental funk, fluid vocals, soul crooning, metal, reggae and intricate interplay between Adam Gold's four-keyboard setup and Emanuel Washington's drums -- an infectious journey that left the full crowd gasping for air."- Dan Rys - The Daily Free Press (Boston)
For more information about Sophistafunk, fall tour dates, and ticketing information, check out the band's official website at www.SOPHISTAFUNKband.com.
Upcoming Shows:
9/6/2013- Hyperion Festival- Spencer, IN
9/7/2013- Hullabaloo Music Festival- Bellevue, NE
9/8/2013- Parlor City Pub & Eatery- Cedar Rapids, IA
9/12/2013- Vassar College- Poughkeepsie, NY
9/13/2013- The Hartford Room- Hartford, CT
9/14/2013- Otis Mountain Get Down- Elizabethtown, NY
9/15/2013- Westcott Cultural Fair- Syracuse, NY
9/17/2013- Three20South- Breckenridge, CO
9/18/2013- Cervantes Other Side- Denver, CO w/ Rakim
9/19/2013- Hodi's Half Note- Fort Collins, CO
9/20/2013- The Lazy Dog- Boulder, CO
9/21/2013- Ullers Tavern- Winter Park. CO
9/25/2013- Private Party- Santa Rosa, CA
9/26/2013- 19 Broadway- Fairfax, CA
9/27/2013- Boom Boom Room- San Francisco, CA
9/28/2013- Crazy Horse Saloon and Grill- Nevada City, CA
9/29/2013- Torch Club-Sacramento, CA
10/1/2013- WOW Hall- Eugene, OR
10/2/2013- Applegate River Lodge- Applegate, OR
10/3/2013- Riverfront Plaza @ Dojo- Bend, OR
10/4/2013- Nectar Lounge- Seattle, WA w/ The Bad Tenants
10/5/2013- The Goodfoot- Portland, OR w/ McTuff & Skerik
10/6/2013- Wild Buffalo House Of Music- Bellingham, WA
10/9/2013- The Hive- Omaha, NE
10/10/2013- Iowa City Yacht Club- Iowa City, IA
10/11/2013- Abbey Pub- Chicago, IL w/ Kris Lager Band
10/12/2013- Park Theatre- Holland, MI w/ Kris Lager Band
10/14/2013- Camel- Richmond, VA w/ Orgone
10/15/2013- 8x10- Baltimore, MD w/ Orgone
10/17/2013- Whitlow's On Wilson- Arlington, VA
10/18/2013- Zeppa Auditorium- Rochester, NY w/ Thunder Body
10/19/2013- Olive Ridley's- Plattsburgh, NY
10/25/2013- Halloween Hash Bash- Harmony, ME
10/26/2013- Nectar's- Burlington, VT
10/31/2013- The Gates- Ithaca, NY
11/1/2013- 505 Westcott St.- Syracuse, NY w/ Consider The Source
11/2/2013- DROM- New York, NY w/ Consider The Source