Split Lip Rayfield | Larimer Lounge | Denver, CO | 5/11/12 | Review
Submitted by Ben Welp on Wed, 05/30/2012 - 16:17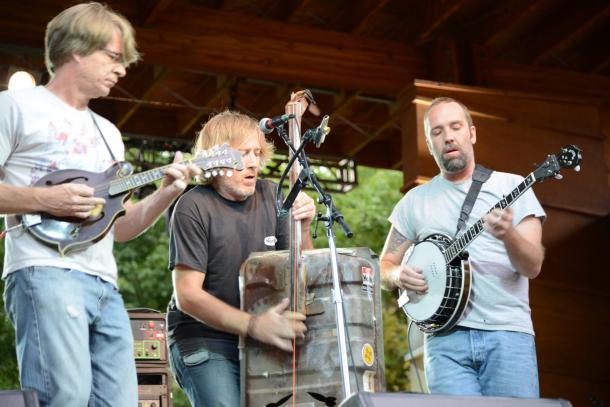 On Friday, May 11 the Kansas based high octane bluegrass trio known as Split Lip Rayfield (SLR) took the stage behind the sliding barn doors of Denver's Larimer Lounge.   Passionate bluegrass fans stirred in anticipation to watch the finely-aged, unique instrumentation that is Split Lip Rayfield.  This is no ordinary bluegrass jam band; Split Lip Rayfield holds elements of country, folk, and a dash of metal that conjures up a Frankenstein image that cannot be easily pinned down.  As the lights dimmed and the barn doors slammed shut, fans huddled together to sing along with the three headed mud stomping monster.
Based out of Wichita, Kansas, Split Lip Rayfield's first album of the same name was released in 1998 under Bloodshot Records.  Since then they have released six albums including two live recordings, one of which was done at Denver's Bluebird Theater (2004).  Their last album titled "I'll be Around" was released in 2008 and dedicated to the band's former member Kirk Rundstrom, who passed away a year prior.  Respecting his imprint on the group, they decided not to seek a musical replacement for Rundstrom and continued on as a trio. "I'll Be Around" both displays how musically talented the members of SLR are and shines lyrically, as well as reflecting the ups and downs of their career.
On stage, their energy is contagious and swirls around the room looking for places to land. Eric Mardis seemingly switches between the banjo and guitar giving the group its country polish.  On the mandolin, Wayne Gottstine plays the instrument like I've never seen.  In photographs his fingers blur together and appear to be one.  Finally, there is Jeff Eaton on the gas tank bass.  There is possibly no one else on the planet who knows their instrument better.  An actual gas tank removed from a tractor, Eaton's bass is currently seventeen years old and counting.  It sits on what appears to be the bottom of a pogo stick and has a polished wooden neck. It only has one string but you would never know that from listening to Eaton play.  Hunched over, like Beethoven at the keys, Eaton is slamming on the gas tank and at times tuning in-between notes. Needless to say, there is never a dull moment at a Split Lip show.
The night's set list was comprised equally of songs from previous albums and the most recent "I'll Be Around".  Including the track "Aces High" which is clearly a testament to the belief that good fortune and good company come hand in hand.  As the barn doors reopened, the animals were released back into the wild, to go forth looking for good fortune in the midst of good company. If you are looking for a chance to catch the cowpunk trio, look for summer tour dates including Wakarusa and High Sierra Music Festivals.