Stanley Clarke & Victor Wooten @ the Boulder Theater
Submitted by mike on Wed, 03/09/2011 - 18:25
STANLEY CLARKE BAND Exploding into the jazz world in 1971, Stanley was a lanky teenager from the Philadelphia Academy of Music. He arrived in New York City and immediately landed jobs with famous bandleaders such as: Horace Silver, Art Blakey, Dexter Gordon, Joe Henderson, Pharaoh Saunders, Gil Evans, Stan Getz, and a budding young pianist composer named Chick Corea.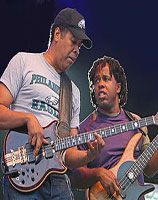 All of these musicians recognized immediately the ferocious dexterity and complete musicality the young Clarke possessed on the acoustic bass. Not only was he expert at crafting bass lines and functioning as a timekeeper in the bass- traditional role, Stanley also possessed a sense of lyricism and melody gained from his bass heroes Charles Mingus, Scott LaFaro, and others, including non-bass players like John Coltrane. Clarke recognized the opportunity to propel the bass into a viable melodic soloist role and was uniquely qualified to do just that.
Stanley Clarke became the first bassist in history to headline tours, selling out shows worldwide, and have his albums certified gold. The word "legend" was used to describe Stanley by the time he was 25 years old. In 1997 Epic/Sony released: By this tender young age, Stanley was already a celebrated pioneer in fusion jazz music. He was also the first bassist in history to double on acoustic and electric bass with equal virtuosity, power, and fire. His artistry has spanned classical, jazz, R&B and pop idioms. He has already succeeded in a multitude of diverse careers, any one of which would be satisfactory to anyone else. Yet he still pushes on, as invigorated and as passionate about music as that teenage prodigy from Philadelphia with a dream. The Biography of this incredible musician, like Stanley himself, is a continuing work in process.
VICTOR WOOTEN He is an innovator, composer, arranger, lecturer, producer, vocalist, and multi-instrumentalist. He is a skilled naturalist and teacher, a published author, a magician, husband and father of four, and a five-time Grammy award winner. But those gifts only begin to tell the tale of this Tennessee titan.
Victor, known for his solo recordings and tours, and as a member of the Grammy-winning super group, Bela Fleck & The Flecktones, has won most every major award given to a bass guitarist. He was voted Bassist of the year by Bass Player Magazine three times and is the only person to have won the award more than once.
Continuing to grow as a person, artist, and teacher, Victor Wooten is always willing to share his gifts with all who desire to learn. Offering CDs, DVDs, lectures, workshops, and camps, as well as his groundbreaking novel The Music Lesson (Berklee Publishing - a division of the Penguin Group) Victor Lemonte Wooten is guaranteed to remain a positive force in the music industry.