Stars to Headline the Fillmore | 11/10
Submitted by mike on Mon, 11/01/2010 - 21:57
Stars, a Canadian Indie act, will be headline the Fillmore Auditorium in San Francisco on November 10th.  Henry Hauser, will be on-hand to cover their show.  Read what Henry had to say had to say from a previous write-up for the Cornell Daily Sun: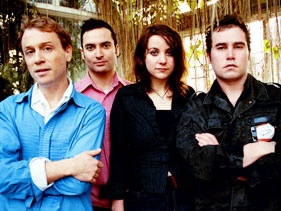 "Storming the florally adorned set of the State Theatre Friday evening, Toronto based indie pop group Stars immediately brought four fifths of the crowd to their feet. Building a swirling hurricane with golden organ and tin-laced percussion; the velvety vocal of Amy Millan weaved the band's inaugural track. In "The Night Starts Here," we are advised to "forget your name, forget your fear," as the tumbling, externalized vocal melody of male bandleader Torquil Campbell refocused our energies on "the ecstasy, the being free, the big black cloud over you and me." Reminiscent of the Baroque style chamber pop that propelled The Arcade Fire's Neon Bible onto countless "Best of 2007" manifestos, the Stars' esoteric instrumentation melted with deep harmonies, creating an explosive, reverberating fortress of sound."
Stars is currently on-tour now, so check out their website for dates, news, etc.