Steve Aoki @ The Boulder Theater | 2/2/11
Submitted by mike on Thu, 01/27/2011 - 00:30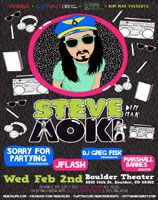 The man behind Dim Mak Records who discovered artists like Bloc Party, The Bloody Beetroots, The Gossip, and The Klaxons also is the same man behind electro anthems like "WARP 1.9" and "I'M IN THE HOUSE" ft Will.I.Am of the Black Eyed Peas. He wears many hats-label owner, club promoter, music producer, fashion designer-however, he is best known for his sensory-deafening DJ sets which have won such accolades as "Best DJ of the Year" and "Best Party Rocker DJ" from Paper Magazine, BPM Magazine, and the Ibiza Awards.
It goes without saying but nearly everyone has seen Steve Aoki's name by 2010. This year he's already released collaborations with Armand Van Helden (Brrrat), Sidney Samson (Wake Up Call), Afrojack (No Beef), Laidback Luke & Lil' Jon (Turbulence), not to mention his hardcore side project with the Bloody Beetroots under the guise RIFOKI. If that wasn't enough, his notoriously epic remix for Kid Cudi's "Pursuit of Happiness" was recently picked up by Vitamin Water as the theme song behind all of its nationwide TV ads.
A key figure in the rejuvenated US dance music scene, Steve Aoki has quickly become the most recognizable DJ in America by both the underground and mainstream audiences.