Steve Kimock Crazy Engine feat. Melvin Seals @ Tips FQ!
Submitted by press on Fri, 04/17/2009 - 06:01
Please join us on Friday, May 1st at Tipitina's French Quarter with a performance by "The Guitar Monk" Steve Kimock and his new band Crazy Engine featuring Melvin Seals.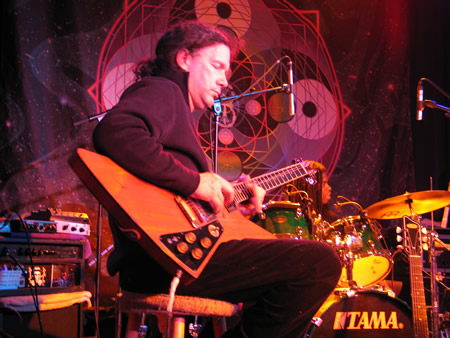 Steve Kimock is one of today's most talented guitarists and composers, a master musician known for his uncanny ability to balance passion and power with soaring grace. Truly a Renaissance man, Kimock's guitar prowess has been heard in dozens of bands and special guest appearances including many Grateful Dead-family bands. For nearly four decades Steve Kimock has earned a reputation as a guitarist with an enlightened approach to melodic improvisation and has captured audiences from around the globe with his tasteful guitar speak and brilliant tone. Relix magazine recently dubbed Steve Kimock "The Guitar Monk" for his relentless pursuit of 'Zen and the art of guitar.'
Exploring a new direction, Crazy Engine is a Steve Kimock project unlike any other. The long-awaited new nationally touring band features legendary Hammond B3 wizard, Melvin Seals, best known for his work with the Jerry Garcia Band, and Kimock's son John Morgan Kimock on drums. This is Steve Kimock unleashed, pushing the limits of rock and roll, rhythm and blues, gospel and soul for undeniably feel-good music.
Don't miss this incendiary musical performance at Tipitina's French Quarter!
And remember, this year the Backbeat Jazzfest Series will be offering music lovers and the musicians they love smoke-free environments at all shows.
Advance tickets are $25 and can be purchased at www.backbeatpresents.com or www.ticketweb.com.
Additional details and information about the events can be found at www.backbeatfoundation.org or by visiting the Foundation's Myspace and Facebook. Additional information and updates about the series can be found at the Backbeat Jazzfest Series 2009 group page.
For information about please visit www.kimock.com. To find out more about please visit www.myspace.com/melvinsealsandjgb.
The Louisiana Campaign for Tobacco-Free Living (TFL) and the Louisiana Department of Health and Hospitals Tobacco Control Program (LTCP) coordinate their efforts in tobacco prevention and control by providing statewide coordination of existing tobacco control initiatives, funding innovative community programs for tobacco control, and improve the overall health and quality of life in Louisiana. For more information visit, www.tobaccofreeliving.org.