STS9's New Album Charts at Billboard and iTUNES
Submitted by madison on Thu, 07/24/2008 - 20:28
This Week, STS9 finds their brand-new, highly anticipated studio album, Peaceblaster, charting: #10 on Billboard's Electronic Chart, #27 on Billboard's Heatseeker Chart, and #2 on iTUNES Electronic Chart.  Peaceblaster was released on the band's self-owned record label, 1320 Records, on July 8th -just in time for their summer tour.
This month STS9 teams up with touring heavyweights Umphrey's McGee for one of the hardest-hitting tours of the summer, and stops in Midwest and east coast cities throughout July.  The tour is already off to an incredible start, averaging nearly 3,000 tickets per show - including a record breaking walk-up at Chicago's Charter One Pavilion that resulted in a crowd of over 5,000 tickets sold.  STS9 continues their tour tonight at a sold out Roseland Ballroom in New York City. In August, STS9 heads west for a run of high profile headlining shows. A complete list of STS9's U.S. summer appearances follows.
STS9 and Umphrey's McGee stop in the following cities:
July 24 Roseland Ballroom New York NY
July 24 Blender at Gramercy New York NY (STS9 AFTER PARTY)
July 25 Festival Pier at Penn's Landing Philadelphia PA
July 25 Fillmore at TLA Philadelphia PA (UMPHREY'S AFTER PARTY)
July 26 Bank of America Pavilion Boston MA
July 27 Pier 6 Concert Pavilion Baltimore MD
July 30 House of Blues Myrtle Beach SC
July 31 Koka Booth Amphitheatre Cary NC
July 31 Lincoln Square Theatre Raleigh NC (UMPHREY'S AFTER PARTY)
August 01 Masquerade Music Park Atlanta GA
August 02 Masquerade Music Park Atlanta GA
With STS9 western U.S. headlining shows including:
August 15 The Independent San Francisco, CA (SOLD OUT)
August 16 The Greek Theatre Berkeley, CA with Bassnectar and special guest TBA  
August 22 McMenamin's Edgefield Portland, OR with special guests Blackalicious
August 23 Marymoor Amphitheatre Seattle, WA with special guests Blackalicious
September 04 Boulder Theatre Boulder, CO (SOLD OUT)
September 05 Red Rocks Amphitheatre Morrison, CO with special guests Talib Kweli and Flying Lotus
September 06 Red Rocks Amphitheatre Morrison, CO with special guests Ghostland Observatory and Bassnectar
September 20 San Diego Street Scene San Diego CA
All shows on-sale now at www.sts9.com and on-sale locally through Ticketmaster at www.ticketmaster.com.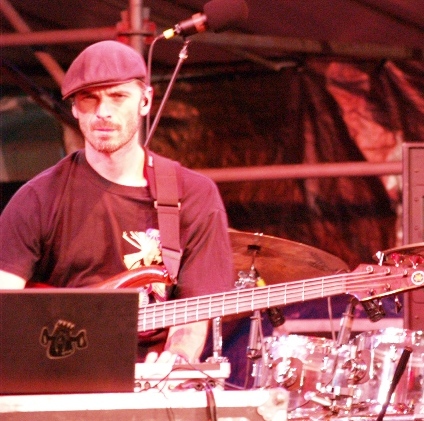 Consider the title of the California-based outfit's long-awaited fourth album: Peaceblaster. The two words rub against each other to create an image that is simultaneously utopian and violent, fraught with the very contradiction that permeates America circa now. The result is a tour-de-force of gut-punching rhythms and textured, shimmering tones. The songs don't seem to have been written so much as plucked from the sky. It's as if the beats and melodies have always existed, just waiting for STS9 to channel them.  STS9 already has a tremendous fan base, but Peaceblaster is perhaps more accessible than the band's previous efforts. Peaceblaster is, of course, dense with the Eno-esque layering of live and electronic instruments that STS9 is known for-the chords and samples swirling atop the pulsing bass and drums. But between the beats there is a distinctly human element absent from past records. 
STS9's Peaceblaster comes nearly three years after their acclaimed 2005 releases, Artifact & Artifact: Perspectives, both of which were named in iTunes list of top albums of the year.  After a flurry of industry attention, STS9 retreated from the limelight to do what they love most: play music. On the touring front, STS9 reached number 29 on Pollstar Magazine's "PULSE Charts" of the country's top touring artists. The band has shared the stage with a diverse range of acts including James Brown, Jurassic 5, Tortoise, Digable Planets, RJD2, De La Soul, The Brazilian Girls, Prefuse 73, Blackalicious, Saul Williams, Soulive, Cut Chemist, and many others, and has played such festivals as Austin City Limits Festival, Lollapalooza, Bonnaroo, Winter Music Conference, and Vegoose Festival.  Recently, the band sold out a 4 night headlining run at Atlanta's Tabernacle, and a 2 night run at Denver's Fillmore Auditorium.