SummerStage presents The Zombies, Django Django, & Adam Green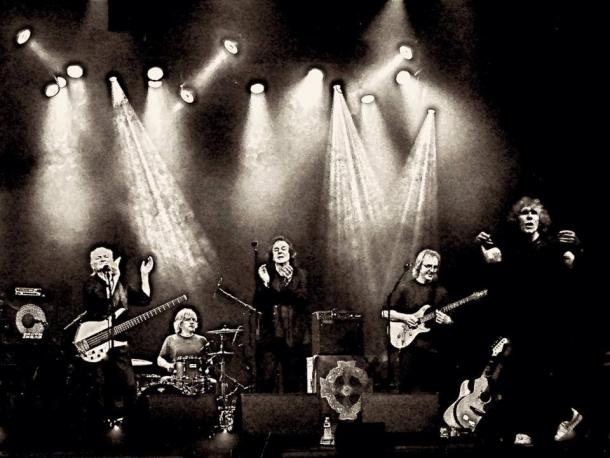 Join us early for a talk with Colin and Rod of The Zombies moderated by director Jonathan Demme and stick around for a full length show with The Zombies, Django Django and Adam Green and Binki Shapiro.  Tickets to this one-time conversation are $15 and available only on-site, starting at 3:30pm on June 15; tickets include express-entry bleacher seats to the show immediately following.
*PAID EVENT* 
Forewords - The British Invasion
A Conversation with COLIN BLUNSTONE and ROD ARGENT of The Zombies
and Filmmaker JONATHAN DEMME 
Presented with The Strand 
SummerStage presented by AT&T
$15 at Central Park, Manhattan 
Showtime:  4:00pm - 5:00pm
SummerStage presents Forewords, a panel discussion series co-curated with The Strand Bookstore. Forewords is a great way to help support SummerStage's free programming and to get an inside look into the minds of the artists you love.
Tickets to Forewords are available on a first come, first served basis at the Central Park Rumsey Playfield location on the day of the show at our guest and press check-in table.  Please arrive to buy tickets approximately one half hour prior to the scheduled start time; advance ticket purchases not necessary or available. All panel discussions will take place in the pergola area. Ticket price covers admittance to the panel and a reserved seat in the bleacher area for the artist pertinent performance to follow.  Tickets to this Forewords will include bleacher seats to The Zombies show following.
The Zombies
Django Django
Adam Green and Binki Shapiro
DJ sets by MODEST P
SummerStage presented by AT&T
FREE SHOW at Central Park, Manhattan
Recommended Arrival Time:  5:00pm
Showtime:  6:00 PM - 10:00PM
Hailing from St. Albans, and originating in 1961, The Zombies are a legendary English Rock band.  Led by Rod Argent on piano and Colin Blunstone on vocals, the band scored US hits in the mid and late 1960s with "She's Not There," "Tell Her No," and "Time of the Season." Their 1968 album, Odessey and Oracle is ranked #80 on Rolling Stone magazine's list of the "500 Greatest Albums of All Time." In 2011, The Zombies released their fifth studio album, Breathe Out, Breathe In.  This latest album enhances the legacy of this monumental rock group with The Independent declaring, "...an authentic 1960s prog-pop tone is sustained through Argent's surging organ and sly piano, combined with the layered harmonies of Blunstone, whose voice seems impressively unravaged by time."
Artist Website: http://thezombies.net/
Coming together in 2009, Django Django is a British group that met at art school in Scotland and has its roots planted in London, England.  This adventurous Rock group melds indescribable electronic flourishes to live instrumentation.  Consisting of four members, Django Django's debut self-titled album, has been voted by Rolling Stone Magazine as 26th in its "50 Best Albums of 2012" list.  Each track contains its own nation of harmonies, rhythms and textures.  Django Django's story looks set to be a long and compelling one. By banging together their thirst for adventure and their exacting high standards, they've produced an album that seems to have everything, but on which everything never seems too much.
Artist Website: http://www.djangodjango.co.uk/
Just one listen to Adam Green & Binki Shapiro is enough to become enchanted. With deceptively pretty arrangements that echo the emotions of late-sixties Folk-Pop and an easygoing rapport between singers, this duet's collaboration may seem like the perfect accompaniment to a sunny summer's day, Southern-California style. But it works even better as a comforting soundtrack at the end of a dark, lonely night in the big city. The atmosphere the pair conjures up with strummed guitars and discreet layers of synths indeed suggests romantic possibility, but the lyrics are more sweetly melancholic, gently but candidly addressing betrayal, incipient heartbreak, and conjugal discord. It's an approach that makes for compelling repeated listening, as the intimate dramas reveal themselves, and it's one that surprised even Green and Shapiro as their self-titled debut album went on sale in January 2013.
Artist Website: http://www.adamandbinki.com
A New Yorker by birth and Albanian by roots, DJ Modest P is best known for his long time Saturday night residency at the legendary East Village club Nublu. He is also known for being one of the founders of the seminal Easy Lover loft party and the now defunct Water Taxi Beach party in Long Island City, sharing the decks with world class DJs such as Carl Craig, Grandmaster Flash, Prins Thomas, and many more. He has performed at many venues in NYC and around the world. Modest P, or Petrit Pula as he is known by his real name also heads the Nublu record label.
Artist Website: http://www.myspace.com/djprobus