Sunshine Music & Blues Festival Returns in January 2014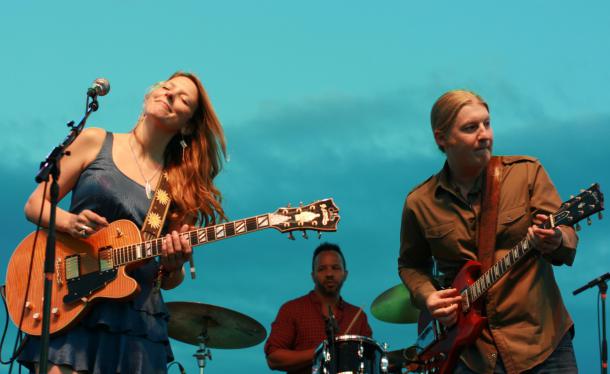 Winner of multiple Blues Music Awards and a 2012 Grammy Award for "Best Blues Album" the Tedeschi Trucks Band will once again headline the Second Annual Sunshine Music & Blues Festival in Florida, playing two dates in the state.  Featuring two stages of live bands, a wide array of refreshing craft beers and delectable menus from a wide variety of food vendors, the Festival will kick off Saturday, January 18, 2014, NOON at Mizner Park Amphitheater, Boca Raton in South Florida and then Sunday, January 19, 2013, NOON, at Vinoy Park, St. Petersburg in the Tampa Bay Area
Early Bird tickets for what has become a major annual event for the Sunshine State, the Sunshine Music & Blues Festival, will go on sale Wednesday, October 2nd at 10AM through Friday, October 4th at 10PM at www.livenation.com.  No password is needed. General on sale is scheduled for Monday, October 7th at 10AM at www.livenation.com, all TicketMaster outlets or charge-by-phone at 1-800-745-3000.  Early Bird General Admission tickets are $39.50 while regular General Admission tickets for the all day event are $49.50.  Special Reserved Tickets are available for $99.50 and some VIP packages are also available
All dates, acts and ticket prices are subject to change without notice. All tickets are subject to applicable taxes, parking and service and handling charges.
While last year was an amazing year for the Tedeschi Trucks Band, or TTB as their loyal prefer to call them, this year has been another strong showing as well.  They have just released their second studio album, Made Up Mind.  AllMusic.com remarks that: "Made Up Mind is tight; it maintains the gritty, steamy, Southern heart displayed on Revelator, but the growth in songwriting, arrangement, and production is immeasurable."  Since Revelator had won the Grammy Award for "Best Blues Album" in 2012 the comparison is awesome.  Now, with the release of Made Up Mind there isn't a shred of doubt that Susan Tedeschi, her husband and creative collaborator, Derek Trucks, and their superb bandmates are on to something -- something very big.  For Derek and Susan, TTB's strength in numbers -- the band presently comprises 10 members -- virtually guaranteed that a wide range of influences would steer the music to new, previously unexplored places. That diversity is evident throughout Made Up Mind. "I felt that with the personnel in this band, it was just a matter of time before all of these ideas started leaking out," says Trucks. "But we had a lot of confidence that it was going to be really good right out of the gate." Today, as the result of carefully building it from scratch, Tedeschi Trucks Band is nothing less than one big happy family, a traveling roots music circus of sorts, roving from town to town and pulling out all the stops along the way, never knowing just what will be the highlight of tonight's show or which band member will be the one to shine in the next moment. Each member of TTB is a strong enough force to be a bandleader in his own right, but the chemical reaction that takes place when they all come together results in a mighty sound that's even greater than the sum of its considerable parts.
Also appearing on this year's bill for the Festival are: New Orleans' favorites Galactic; legendary Leon Russell; the great acoustic blues of Hot Tuna with Jorma Kaukonen and Jack Casady; the incredible jazz bassist Stanley Clarke; The Ringers featuring Jimmy Herring (from Widespread Panic), Wayne Krantz, Michael Landau, Keith Carlock and Etienne Mbappe; New Orleans' guitarist, singer and songwriter Tab Benoit (Boca date only); guitar virtuoso Bobby Lee Rogers; British blues guitarist and singer Oli Brown (who blew everyone away last year at his FL debut at Wanee Fest); plus a special guest to be announced shortly

With Great Music, Great Craft Beers and Great Food, the Second Annual Sunshine Music & Blues Festival headlined by the Tedeschi Trucks Band comes only to Florida for two dates in 2014, Saturday, January 18 at Mizner Park Amphitheater, Boca Raton in South Florida; and Sunday, January 19 at Vinoy Park, St. Petersburg in the Tampa Bay Area.  Early Bird tickets for the all day event go on sale Wednesday, October 2nd at 10AM through Friday, October 4th at 10PM at www.livenation.com. No password is needed. General on sale is scheduled for Monday, October 7th at 10AM at www.livenation.com, all TicketMaster outlets or charge-by-phone at 1-800-745-3000.
For more information go to www.sunshinemusicandblues.com or www.livenation.com.