SURPRISE ME MR. DAVIS | THAT MAN EATS MORNING FOR BREAKFAST
Submitted by mike on Mon, 04/26/2010 - 23:42
Surprise Me Mr. Davis just wrapped a ecstatically energized East Coast run capped off by two very special nights in New York City this past weekend! The band is supporting a new EP, That Man Eats Morning For Breakfast, and while plans are well under way to get back into the studio to record their first full length studio album, this EP, including "Sissyfuss," "Roses In Bottles" and "Joelle," is the place to start.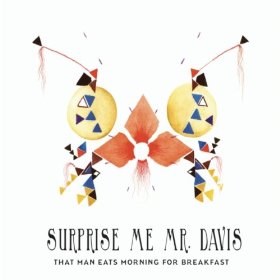 Pick up the CD direct from RPF | or at iTunes
Surprise Me Mr. Davis, a band that plays a handful of dates a year--schedules permitting in the worlds of Nathan Moore, The Slip and Marco Benevento--is taking on more significance these days. The schedule is busier in 2010 and if all goes as planned will continue to grow.
Upcoming dates are:
April 30 | Hi Ho Lounge | New Orleans
June 24 | Tractor Tavern | Seattle, WA (w/ Marco Benevento Trio)
June 25 | Doug Fir Lounge | Portland, OR (w/ Marco Benevento Trio)
June 26 | WOW Hall | Eugene, OR (w/ Marco Benevento Trio)
July 1 High Sierra | Quincy, CA
July 3 | High Sierra | Quincy, CA
July 6 | Cafe Du Nord | San Francisco, CA
July 7 | Moe's Alley | Santa Cruz, CA
August 19 | Fox Theater | Boulder, CO
August 20 | Three 20 South | Breckenridge, CO
August 21 | Newhoma Music Festival | Florissant, CO