Surprise Me Mr. Davis | Summer Dates & 'Bridge Sessions' Segment
Submitted by mike on Sat, 06/05/2010 - 03:31
Surprise Me Mr. Davis have announced a handful of summer tour dates. The five piece rock band, featuring Nathan Moore, Brad Barr, Marco Benevento, Marc Friedman and Andrew Barr, will come together from their homes in Montreal, Brooklyn and the Shenandoah Valley for ten shows. They'll be supporting their latest EP release, That Man Eats Morning For Breakfast.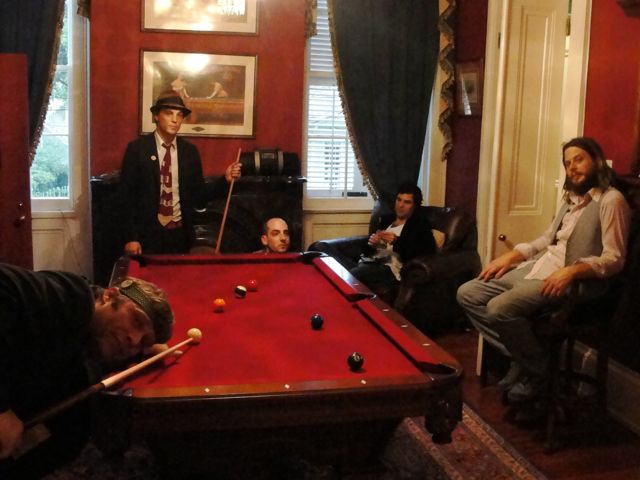 The Hidden Track blog noted in a recent live review: "Someone mentioned that it felt like seeing The Band in some club in 1970, and that seemed just about right--there is such skillful songsmithing, such virtuosity in performance, such joy and such a tortured voice in the quintet. The music glows and rolls and speaks as the greatest Americana does of all the back roads and small towns and small rooms in big cities, all the confused relationships, unrequited love and brotherly love. I can't help thinking, whenever Nathan Moore begins some political rant bookended by some semi-comical, semi-forlorn personal ramble, that this is what Walt Whitman would be doing if he were still alive." Jambase stated: "Surprise Me Mr. Davis needs to be recognized as one of the top bands in the live music scene; an appointment that is far overdue and richly deserved."
Upcoming Surprise Me Mr. Davis tour dates are:
June 24 | Tractor Tavern | Seattle, WA (w/ Marco Benevento Trio)
June 25 | Doug Fir Lounge | Portland, OR (w/ Marco Benevento Trio)
June 26 | Axe & Fiddle | Cottage Grove, OR (w/ Marco Benevento Trio)
July 1 | High Sierra | Quincy, CA
July 3 | High Sierra | Quincy, CA
July 6 | Cafe Du Nord | San Francisco, CA
July 7 | Moe's Alley | Santa Cruz, CA
August 19 | Fox Theater | Boulder, CO
August 20 | Three 20 South | Breckenridge, CO
August 21 | Newhoma Music Festival | Florissant, CO
Watch Surprise Me Mr. Davis perform an a-capella rendition the Nathan Moore song "Tombstone" on the Williamsburg Bridge shortly before they took the stage for a headline show in April at New York City's Mercury Lounge. The piece was filmed as a segment for "The Bridge Sessions."