Swedish House Mafia North American Tour Just Weeks Away
Submitted by MAGNUM PR on Fri, 01/25/2013 - 09:27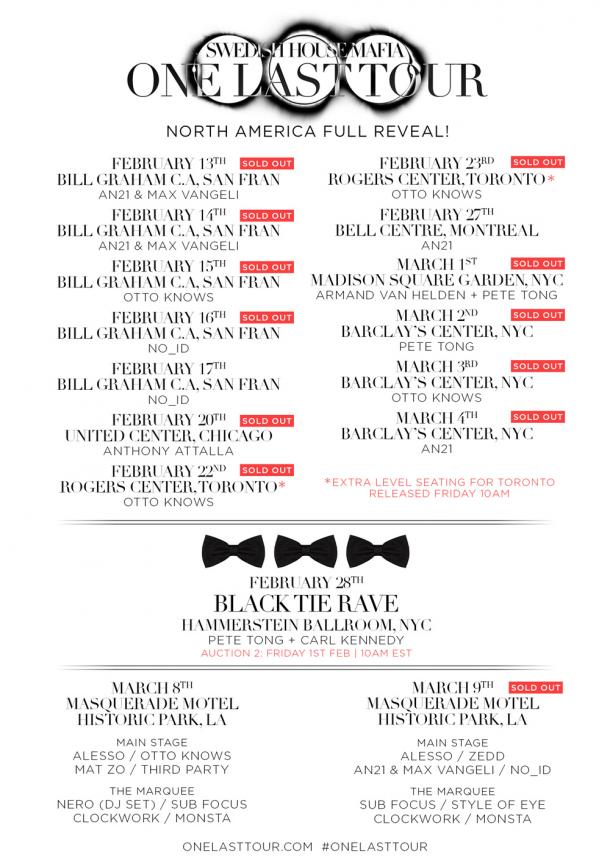 SWEDISH HOUSE MAFIA have announced the line up for the much anticipated North American leg of their massive world-wide One Last Tour.   Armand Van Helden will play his first NYC gig in five years when he joins the Swedes at Madison Square Garden on March 1st alongside the legendary Pete Tong. Pete Tong and Carl Kennedy will play with Swedish House Mafia at their Feb. 28th Black Tie Rave charity event and Tong will also open for the Swedes at Barclay's Center on March 2nd.  AN21, Anthony Atalla, Max Vangeli, NO_ID and Otto Knows will all open on select dates throughout the tour (full listing below).
As previously announced, an all-star line up will play Swedish House Mafia's hugely anticipated 2-day Masquerade Motel in Los Angeles on March 8th and 9th at the Los Angles Historic Park.  Each day will usher in 35,000 ravers, which promises to be an event not to be missed.  March 9th sold out in minutes but there are still some tickets available for March 8th.  March 8th will bring Alesso, Otto Knows, Mat Zo and Third Party to the main stage and Nero (DJ Set), Sub Focus, Clockwork and Monsta to the The Marquee.  On March 9th, The Swedes will be joined again by Alesso on the main stage along with Zedd , AN21 & Max Vangeli & No ID with Sub Focus, Style of Eye, Clockwork and Monsta returning to The Marquee.
All of the originally announced North American dates sold out in minutes, causing the group to add additional dates.  Most of the dates are now completely sold out however fans can still purchase tickets for shows on Feb. 17th in San Francisco AND March 8th Masquerade Motel in Los Angeles.
Toronto will be opening additional tiers of the sold out arena dates on Feb 22 and 23 to cope with demand and will be on-sale at 10AM EST tomorrow January 25th.
One Last Tour is the group's most extensive tour ever and will hit stateside on February 13th in San Francisco. The massive outing started in November in Dubai and has made stops throughout India, Europe, Eastern Europe, Russia, Asia, Southeast Asia, Indonesia, Malaysia, India and will visit South Africa, Australia and Mexico before reaching the states.  The North American leg will hit San Francisco, Chicago, Toronto, Montreal, NYC, LA and Miami.   It was announced last month that the final curtain call for One Last Tour will happen at the Ultra Music Festival in Miami, marking a significant milestone in the group's career together.  Ultra is whereAxwell, Steve Angello and Sebastian Ingrosso played their first festival headline in North America.  They will play both the opening night of the festival on March 15th and the closing on March 24th in what is sure to be an emotional farewell to the group's millions of fans across the globe and promises to create unrivalled memories for fans and the group alike.  A full list of tour dates can be found below.