Swing Into The Holiday Season With George Gee's Make-Believe Ballroom Orchestra
Submitted by press on Mon, 11/17/2008 - 10:01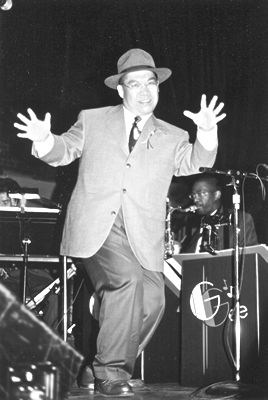 This Holiday season, The Edison Ballroom and producer Mickey Marchello, former guitarist from the legendary New York Rock Band Good Rats, will welcome the swing era sounds of George Gee and his Make-Believe Ballroom Orchestra as they entertain guests with a new show that evokes a golden era:  "Sleigh Bells Swing."  George Gee and his 22-piece Big Band offer the perfect Holiday treat for not only swing and jazz music fans, but also for tourists and tri-state area residents looking for an incredible Holiday entertainment experience.  The Edison Ballroom poses as the perfect backdrop for George Gee's musical extravaganza with its plush leather walls and sophisticated art deco accents in tones of whites, blacks, shades of grey, and platinum juxtaposed against illuminated glass tiles.  Combined with the décor of The Edison Ballroom and a presentation of classic Holiday songs, guests will feel as if they are re-entering a fantasy world of 1930s/1940s retro era of glitz and glamour that no longer exists – until now.
 
A world-renowned professional swing band leader, George Gee is also the only Chinese-American one. He has compiled a hip and cosmopolitan big band show fully equipped with 22 tuxedoed musicians, captivating singers, rhythmic tap dancers and gravity-defying lindy hoppers, punctuated by a custom-tailored bandstand to complete the look of this elegant evening.  "Sleigh Bells Swing" will begin with an interactive and multi-media floor show with the full swing orchestra and complete cast during dinner, MC'ed by the seasonal anecdotes of Mickey Marchello.  After the show and four course meal, the complete 1,700 square feet dance floor will open for dancing to the swingin' big band sounds of George Gee and his orchestra.
Edison Ballroom's "Sleigh Bells Swing" will run straight from December 20th, 2008 through January 3rd, 2009 (with no performance on December 24th, 2008).  Tickets for the floor show and dinner are $190.00 per person including all drinks and dancing; tickets are $75 per person for general dancing, include open bar and hors d'oeuvres  (post-dinner and floor show).
ABOUT THE EDISON BALLROOM

The Edison Ballroom, first opened in the 1930's, reopened June 2008 following a $5 million renovation targeted to make it the premiere venue for a wide variety of private events and celebrations. Located at 240 West 47th Street in the heart of Times Square (between Broadway and 8th Avenue), the Edison Ballroom boasts a long and illustrious history that is still visible in the details of its restoration.  The new renovation is meant to highlight the room's art deco flair of the 1930's.  Owner, Allan Wartski (Christo's Steakhouse and Hakata Grill) hired Glen Coben of the award winning New York-based architecture and design firm Glen & Company to design the interior.  A neutral palette was used to play up the architectural details, spotlighting their beauty. The main floor houses a 700 square foot stage framed by elegant and traditional silk curtains. Upstairs is a balcony that has its own bar.

ABOUT GEORGE GEE

Nearly three decades ago, in an era when punk, new wave and heavy metal ruled, a Chinese-American musician named George Gee launched his imaginative big band vision.  A native New Yorker, George Gee has always loved the syncopated jump styles of the Big Band Era and his career was propelled by the support of  swing giant Count Basie.  He grew up with rock 'n' roll, R&B and disco – but also developed a powerful passion for swing. At renowned Stuyvesant High School, George Gee wowed the crowds with his flashy showmanship on bass in the school's jazz band.  After an extended stint on the road, George returned to his hometown of NYC in 1989 to make his big band dream a reality.  He  summoned top notch musicians – (young and old), including veterans of legendary bands such as those led by Count Basie, Lionel Hampton, Duke Ellington, Benny Goodman and also Latin and pop music giants – all to continue living his big band dream.
 
With each performance, George Gee's powerful and entertaining swing orchestra continues to set new standards and reach for loftier heights.  George Gee and the band were recently invited to the Middle East to perform for an audience including The Prince of Jordan and musical impresario Quincy Jones. Gee also served as a primary expert for the nationally broadcast and DVD distribution of the documentary "The Joint is Jumpin'" and was also a featured appearance on PBS's "Live at Lincoln Center" for 11 million viewers.  George Gee continues to tour the world spreading the Gospel of Swing and is ecstatic about his collaboration with The Edison Ballroom.