theNEWDEAL unveil their GINORMOUS FALL TOUR
Submitted by mike on Thu, 09/02/2010 - 16:59
theNEWDEAL are happy to announce their GINORMOUS fall tour.  GINORMOUS will feature some very exciting special guests and great new venues on the run.   On Wednesday, tND begin the tour @ Cleveland's famed Beachland Ballroom, where they will be joined by local heroes, THE WERKS.  Next they travel to Clifton Park, NY (Albany) for Thursday, September 23rd play with old friends FUTURE ROCK & ORCHARD LOUNGE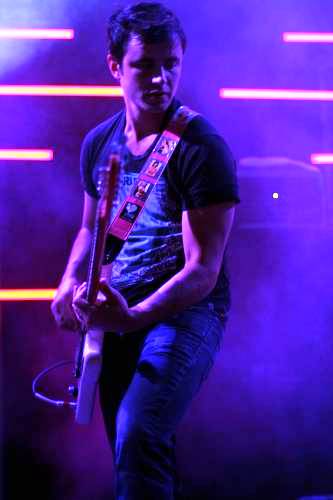 For the fans in Philadelphia, tND could not be more excited to present a rare East Coast appearance, by Bay-area Baller - LYRICS BORN who will join theNEWDEAL on Friday, September 24th in Philadelphia, PA @ The E-Factory and Saturday, September 25th @ Pearl Street in Northampton.  Don't miss these special shows, which will also include video mash junkies ECLECTIC METHOD, throwing down a crazy mix of clips and beats.
tND heads West to begin an October assault on Colorado.   Coloradans - don't miss Fox/Hodi's throw-downs with BROTHERS PAST and THE PASSAGE PROJECT, as well Re:Generate @ Cervante's in Denver.  On Tuesday, October 12th, tND will be joined by PAPADOSIO @ The Bluebird in Bloomington, IN.  Space rockers DOWNSTEREO join tND on Wednesday, October 13th in St. Louis, MO @ the Old Rock House.   Madison's disco-fanged STEEZ helps to hold down Thursday, October 14th @ the Majestic Theater.  On Friday, October 15th will return to the Blind Pig in Ann Arbor, MI (UM/MSU weekend).  Special guest TBA, but promises to be a big night. To close out October, you wont want to miss tND when they hit Buffalo, NY's Town Ballroom for a fall blowout w/ special guest DJ extraordinaire KING BRITT (buy a 2-night ticket to see tND & Lotus).
As the cold weather begins, theNEWDEAL continues to bring the heat.  On Wednesday, November 3rd, tND will lock beats with TWO FRESH & MIMOSA @ Pittsburgh's Mr. Smalls Theater.  Thursday, November 4th brings the band across PA for a show at Eleanor Rigby's in Scranton where they will connect with home-town villains The INDOBOX.   On Friday, November 5th, (Charlottesville, VA - Jefferson Theater), Saturday, November 6th (Baltimore, MD - Bourbon Street Ballroom) as well as Wednesday, November 10th, (Knoxville, TN), theNEWDEAL will be joined for several shows by psychedelic/world beat conquistadors - TOUBAB KREWE.
On Thursday, November 11th, the band will make their long awaited return to Athens, GA to play the New Earth Music Hall.  The next night tND burst back to fan-favorite, the Orange Peel, for a Friday, November 12th showdown.  Special guests for these two shows to be announced soon.   The GINORMOUS Tour finally wraps up with tND blowing-up the Bear Creek late nite on Saturday, November 13th.
tND GINORMOUS Fall tour will feature all new production and lighting.  Don't miss your chance to see new GINORMOUS NEWDEAL experience in brilliant technicolor..
Special holiday show announcement coming soon.
Sept 4, Chicago, IL, North Coast Music Festival
Sept 5, Apache Pass, Rockdale, Texas, Nocturnal Festival
Sept 22, Cleveland, OH, Beachland Ballroom (w/ The Werks)
Sept 23, Albany, NY, Northern Lights (w/ Future Rock & Orchard Lounge)
Sept 24, Philadelphia, PA, Electric Factory (w/ Lyrics Born & Eclectic Method)
Sept 25, Northampton, MA, Pearl Street (w/ Lyrics Born & Eclectic Method)
Oct 7, Boulder, CO, Fox Theatre (w/ Brothers Past)
Oct 8, Ft. Collins, CO, Hodi's Halfnote (w/ The Passage Project)
Oct 9, Denver, CO, Cervante's (w/ Mimosa, Future Rock, Brothers Past)
Oct 12, Bloomington, IN, The Bluebird (w/ Papadosio)
Oct 13, St. Louis, MO, Old Rock House (w/ Steez)
Oct 14, Madison, WI, The Majestic (w/ Steez)
Oct 15, Ann Arbor, MI, The Blind Pig (w/ Steez)
Oct 16, Buffalo, NY, Town Ballroom (w/ King Britt)
Nov 3, Pittsburgh, PA, Mr. Small's Theatre (w/ Two Fresh & Mimosa)
Nov 4, Scranton, PA, Eleanor Rigby's (w/ Eclectic Method)
Nov 5, Charlottesville, VA, Jefferson Theater (w/ Toubab Krewe)
Nov 6, Baltimore, MD, Bourbon Street (w/ Toubab Krewe)
Nov 9, Blacksburg, VA, Attitudes (w/ Eclectic Method)
Nov 10, Knoxville, TN, The Valarium (w/ Toubab Krewe)
Nov 11, Athens, GA, New Earth Music Hall (TBA)
Nov 12, Asheville, NC, The Orange Peel (TBA)
Nov 13, Live Oak, FL, Bear Creek Music Festival