They Might Be Giants Release "Join Us" Today
Submitted by mike on Wed, 07/20/2011 - 03:44
They Might Be Giants released their new album, Join Us, released in all digital and physical outlets today through Idlewild/Rounder Records. On Join Us we find the Brooklyn originals have returned to rock and to their singular sensibility that made them an instant phenomenon in the world of alternative rock. Receiving acclaim from USA Today, SPIN Magazine, Rolling Stone, Vanity Fair, Los Angeles Times, New York Magazine and more, check it out for yourself!  The full album  is streaming on AOL Spinner and you can download album track "Judy Is Your Viet Nam" MP3 where it premiered on RCRD LBL today or HERE.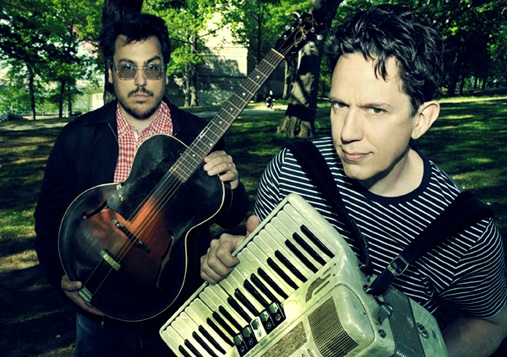 The winner has been chosen for TMBG's fan video contest judged by John Hodgeman for their single "Can't Keep Johnny Down". The winners, Mohit Jaswal, Euardo Urueana, and Justin Dean, have created a cleverly backwards video which capture the true soaring spirit of Johnny!
The record opens with "Can't Keep Johnny Down" -- a summer-perfect pop single that will get instantly stuck in your head and make you want to roll down the windows. Immediately following, the caffeinated fuzz of "You Probably Get That a Lot" will command you to pogo! "When Will You Die" features TMBG's own formula for punk. The short and sweet  "Judy Is Your Viet Nam" tells an anthemic tale of unrequited infatuation.  The pure folk-pop of "Old Pine Box" showcases the band's signature harmonies, handclaps and the always popular, never anticipated vocoder. The wit TMBG are known for is at it's finest on Join Us, album closer "You Don't Like Me" has lyrical gems like "I can see the future like it's in the past".
Notorious for their energized live show, They Might Be Giants will launch an international tour this Fall, hitting 6 countries and over 50 US cities. Be sure to catch TMBG live in your city!
--
They Might Be Giants Tour Dates
7/28: Lancaster, PA @ Chameleon Club
7/29: Brooklyn, NY @ Williamsburg Waterfront w/Eugene Mirman FREE CONCERT
7/30: Asbury Park, NJ @ The Stone Pony (CD release party)
9/8: New Haven, CT @ Toad's Place
9/9: Great Barrington, MA @ Mahaiwe Theatre
9/10: Concord, NH @ Capitol Center for the Arts
9/11: Norwich, VT @ Open Air Theatre
9/13: Ithaca, NY @ State Theatre
9/14: Pittsburgh, PA @ Byham Theatre
9/15: Rochester, NY @ Harro Ballroom
9/16: Cleveland, OH @ Beachland Ballroom
9/17: Detroit, MI @ Majestic Theatre
9/18: Grand Rapids, MI @ Intersection
9/20: Cincinnati, OH @ Southgate House
9/21: Louisville, KY @ WFPK Presents Waterfront Wednesdays
on Harbor Lawn at Waterfront Park (2011 Season Finale)
9/22: Indianapolis, IN @ The Vogue
9/23: Chicago, IL @ Riviera Theatre
9/24: St. Louis, MO @ The Pageant
9/25: Tulsa, OK @ Cain's Ballroom
9/27: Nashville, TN @ Cannery Ballroom
9/28: Asheville, NC @ Orange Peel
9/29: Richmond, VA @ The National
9/30: Philadelphia, PA @ Theatre of Living Arts
10/1: Boston, MA @ Berklee Performance Center,
(2 shows, 6:30pm & 9pm)
10/28: Milwaukee, WI @ Pabst Theatre
10/29: Minneapolis, MN @ First Avenue
10/30: Iowa City, IA @ Englert Theatre
11/1: Omaha, NE @ Slowdown
11/2: Kansas City, MO @ Beaumont Club
11/3: Boulder, CO @ Boulder Theatre
11/4: Salt Lake City, UT @ The Depot
11/5 Boise, ID @ Knitting Factory
11/6: Spokane, WA @ Knitting Factory
11/8: Vancouver, BC @ Venue
11/9: Seattle, WA@ Showbox SoDo
11/10: Portland, OR @ Crystal Ballroom 
11/11: Arcata, CA @ Van Duzer Theatre 
11/12: San Francisco, CA @ Fillmore – on sale 6/26
11/13: San Francisco, CA @ Fillmore – on sale 6/26
11/16: Anaheim, CA @ House of Blues
11/17: San Diego, CA @ Belly Up
11/26: Washington, DC @ 9:30 Club