Thomas Dolby announces interactive film/music tour of U.S.
Submitted by conqueroo on Tue, 09/10/2013 - 14:58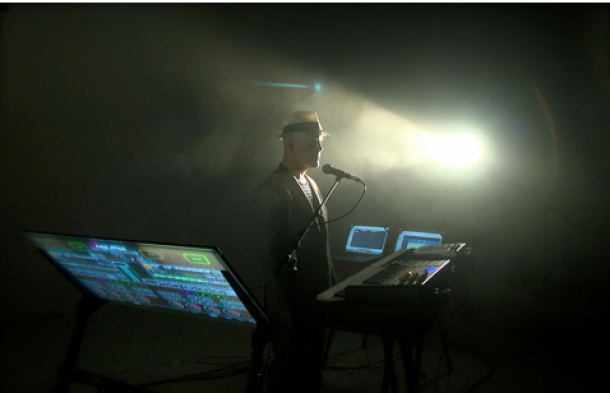 Thomas Dolby, the multi-Grammy™ nominated artist and producer, takes his new live show — part film, part concert, part transmedia event — on the road this fall. Each show will be a unique event that cannot be replicated outside of Dolby's theater performance.
In a 20-date tour of historic arthouse cinemas and independent film festivals, Dolby will perform a live narration and musical score in front of a projected film image, accompanied by Foley artist/musician/sound designer Blake Leyh. Between them they will bring to U.S. audiences an innovative hybrid of documentary and art installation, as they manipulate sound, music and lighting to dramatic effect.
The Invisible Lighthouse is a new film that Thomas shot and edited entirely himself, detailing the closure of a beautiful lighthouse on the tip of a mysterious ex-military island off the East Coast of England. Thomas has known the evocative flash of this lighthouse since he was a child. Moved to pick up a film camera and document its imminent closure, he received little co-operation from the authorities. So he risked a clandestine dawn raid on the island in an RIB (rigid inflatable boat), and captured the eerie atmosphere of the island and the final flash of its iconic landmark using a remote controlled drone and a selection of high-tech spy cameras.
Dolby's film is attracting attention in high places. J.J. Abrams (director of Star Trek Into Darkness and the forthcoming Star Wars feature film) described it as "touching, evocative, and beautiful." Meanwhile XM Sirius Radio's Richard Blade simply said the show was "breathtaking."
The Invisible Lighthouse has already received acclaim at U.S. film festivals including the Los Angeles DIY Film Festival, where it won the awards for Best Documentary and Best Director, L.A.'s Hollyshorts, the Albuquerque Film & Media Experience, the Columbia Gorge Film Festival, and JamFest in New Orleans, where it won for Best Documentary Short. The U.S. tour this fall will kick off with a special evening at the Mill Valley Film Festival on October 10th, at which Dolby will conduct interviews and musical jams with several special guests before staging a full live performance of his film.
Also on the road will be The Time Capsule, an intriguing 1930s teardrop trailer bristling with high-tech equipment. VIP guests will be invited to step into the trailer and ask Thomas a question in person. The best conversations will be instantly uploaded to Dolby's YouTube channel.