Thomas Dolby's 'Oceana' breaks 20-year silence
Submitted by mike on Wed, 02/09/2011 - 22:08
Reclusive solo artist Thomas Dolby is preparing to break his 20-year silence with a brand new studio album, A Map of the Floating City, due out this summer. But first, on March 28, Thomas is releasing Oceanea, a three-track EP filled with soaring melodies, intriguing storytelling and vividly cinematic textures. Featuring guest vocals by Eddi Reader, Oceanea sees a return to Dolby's melodic and atmospheric roots. "The new songs are organic and very personal," explains Dolby. "The songs on Oceanea are a reflection of my natural home on the windswept English coastline." These days he writes and records aboard a solar and wind-powered 1930s lifeboat in the garden of his beach house in East Anglia.
Now living back in his native U.K. after 25 successful years in the U.S., Dolby is busy completing A Map of the Floating City, which features appearances by special guest artists Mark Knopfler, Regina Spektor, Eddi Reader, Natalie MacMaster, Bruce Woolley and Imogen Heap. Says Thomas, "This album does not sound electronic at all. I have zero desire to add to the myriad of machine-based, synth-driven grooves out there. What I do best is write songs, tell stories."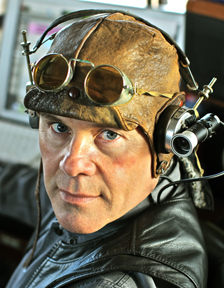 Thomas Dolby's impressive recording and production career now stretches over 30 years. His commercial breakthrough came with the 1982 release of his very first album, The Golden Age of Wireless, which featured the hit "She Blinded Me With Science." Go back a year and Dolby's innovative synthesizer work was already making its mark: Foreigner's massive hit single "Waiting for a Girl Like You" with its weaving synth intro — Dolby's work. Cue 1983 and Thomas Dolby is guesting on Def Leppard's Pyromania album. In the same year he appears as producer for U.S. rap wonders Whodini, who release an absolute B Boy classic with "Magic's Wand." 1984 saw the release of Dolby's second album, the expansive masterwork The Flat Earth, which alongside Talk Talk's Colour of Spring (1986) raised the artistic bar considerably. The Flat Earth featured Dolby's biggest single success, "Hyperactive!," a fine piece of pop-art funk that was originally written for Michael Jackson. (It still sounds like the eccentric English cousin of Herbie Hancock's "Rockit.") The 12" released in the U.K. on the collectable Parlophone Odeon label is treasured amongst beat-head DJs.
From 1985-1992, Thomas Dolby released two more albums — collaborating with George Clinton on the bold Aliens Ate My Buick and 1991's Astronauts and Heretics, which featured Grateful Dead supremo Jerry Garcia alongside Siouxsie and the Banshees' Budgie. In addition to his solo output, Dolby produced Prefab Sprout (the classic Prefab albums Steve McQueen and Jordan: The Comeback), Joni Mitchell (Dog Eat Dog), appeared with David Bowie at Live Aid, was part of the all-star cast in Roger Waters' 1990 "The Wall: Live in Berlin" concert, and performed at the Grammys® with Stevie Wonder and Herbie Hancock.
Dolby quit the music business in the early '90s and spent many years in Silicon Valley, where he founded tech company Beatnik Inc. and co-invented the polyphonic ringtone synthesizer embedded in more than two billion Nokia mobile phones. In 2001 he became Musical Director of the TED Conference, an annual event in Long Beach, California that attracts some of the world's foremost thinkers, inventors, and speakers. In this capacity he provides live musical introductions to sessions, sometimes with an eclectic TED House Band, as well as helping secure guest musicians and entertainers for the event. At last year's conference, Dolby was joined onstage by David Byrne for an inspiring performance of Talking Heads' "(Nothing But) Flowers."
Following his involvement in Beatnik Inc., Dolby returned to his musical career and the live arena in 2006. Dates in the U.S., an appearance at O2 in Hyde Park, and a triumphant night at London's Scala reaffirmed this performer's importance on the big stage. A 2007 appearance at America's SXSW festival was followed by a string of further U.K. shows and in 2009 EMI released The Singular Thomas Dolby, which brought together all of Thomas's great singles on one ace compilation. In 2010 Dolby released Amerikana, a download-only EP exclusive to his online community, The Flat Earth Society. A particular highlight is the richly atmospheric "17 Hills" featuring some virtuoso guitar from Mark Knopfler. Along with Oceanea, these EPs help consolidate Dolby's fanatical online fan base while previewing music from his upcoming album.
Thomas Dolby has created a further way for fans to get early access to his new material in the shape of an extraordinary social network-based game, The Floating City, to be launched this spring via Facebook, Twitter, and The Flat Earth Society. By building a post-apocalyptic, barter-based trading culture around the objects and places named in Dolby's songs, solving puzzles related to his lyrics, and discovering clues embedded in unique remixes, players will be able to win a sneak peek of other new songs from the album, as well tickets for a private one-off concert this Summer at which he will perform the new album in its entirety.