"Three Roads Home" from Halle & The Jilt In Stores Today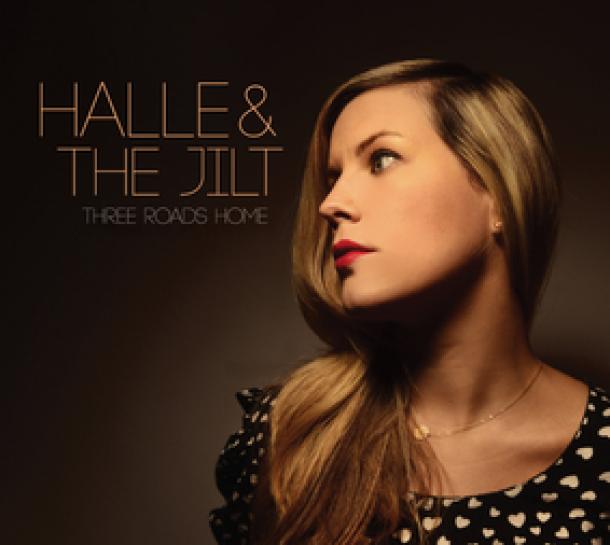 Three Roads Home, the new album from Halle & The Jilt is in stores today.  Halle will be streaming the entire album on her website all week.  The band will also be celebrating the release with a performance at Rockwood Music Hall in NYC at 7pm.  Halle has been on tour for the past two weeks in support of the release and will wrap up this month long tour in Chicago on April 20.  All remaining dates are listed below.
Three Roads Home is the follow up to the critically-acclaimed debut, Lucky You.  The 10-track album highlights lead singer, Halle Petro's versatility as a songwriter, genre-skipping from blues/soul to pop/rock.  Three Roads Home is an exploration in love and relationships. "I don't believe life is about waiting for something to happen to you," says Petro.  She goes on, "The title of Three Roads Home is a reflection of this. Home can be defined as a place, another person or yourself.  The choices in our lives represent the roads we take. The record is about chance and taking risks. Simple...door #3 kinda thing."
Artist Direct recently premiered the new video for "Signs," the first single off the new album.  The video contains personal family footage that was taken by Halle's father's family over the course of 30 years.  "I had been considering ideas for a video and seeing all of this footage struck me as a perfect fit for the song," says Halle.  She goes on, "For a couple married for over 40 years, my parents represent to me what is amazing about relationships; they've been through a lot and remained together.  That's my brother my mother is holding at the end of the video, on the day they brought him home.  Given the song is about moving onwards from a relationship, I liked the juxtaposition against an obvious cycle of life, a representation of what might have been."
Halle & The Jilt Tour Dates:
April 16 - New York, NY - Rockwood Music Hall (Album Release)
April 18 - Milwaukee, WI - Riverwest Public House
April 19 - Crystal Lake, IL - Raue Center for the Arts
April 20 - Chicago, IL - Uncommon Ground
Halle & The Jilt are:
Halle Petro - Vocals, Music, Lyrics
Michael Gomez - Guitar, Music
Tim Luntzel - Bass
Jon Wert - Drums
with various musical guests