Tipper Sound Experience is Unleashed
Commencing this summer British composer and producer, Tipper, is embarking on a sonic pilgrimage, performing at select venues and festivals with the NeXuS Funktion One Dance Stacks originally designed by legendary sound guru Tony Andrews. Tipper will be joined by the highly sought-after lighting impresario Audiopixel to present an exclusive visual experience driven by highly attuned, audio responsive, 3D LED lighting software using intelligent control of light and color. Topped off with tour support from VibeSquaD the performances are intending to blow the minds of all who are lucky enough to encounter the TIPPER SOUND EXPERIENCE.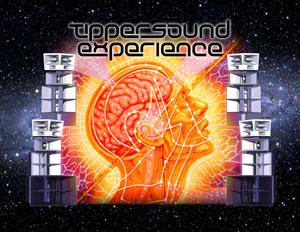 Tipper (real name DaveTipper) is widely acknowledged as one of Electronic music's pioneering innovators. He was signed to Sony as a teenager when he helped kickstart the Nuskool Breakbeat genre, creating the deepest and baddest basslines heard before, or since. He went on to inspire the Glitch Hop movement, focused on merging hip hop beats with electronic trickery through his seminal Tip Hop and Wobble Factor LP's. During this time he also composed one of the first albums produced and intended for release in the 5.1 surround sound format, and Surrounded was nominated Best Release Intended for Surround Sound. His talents in Sound Design and Digital Mastering have him in great demand with major music making software programs, and accordingly his work is quietly featured in the output of countless releases in various genres. His live performances consist largely of his own unreleased compositions, and he is highly regarded for scratching his own sounds over his music, creating a live element of turntablism stemming from prowess early in his career as a vinyl DJ.
THE TIPPER SOUND EXPERIENCE will feature a 5 way crossover sound system in a Quadraphonic Array with specialized sub woofers dedicated to 45 hertz and below; this configuration achieves incredible clarity and sonic accuracy punctuated by thick and luxurious super-low bass. When positioned this way for Tipper, these dance stacks are known for creating an immersive sound environment that transforms the dance floor into an ethereal field of holographic sound. The purity of the Funktion One design approach completely avoids the usual pitfall of system EQ with its associated phase problems, allowing all of Tipper's production trickery and nuance to be presented in an unfettered manner. This technology has won numerous international awards for Best Sound Product in the club world, and their installations have been behind countless 'Club of The Year' winners.
Audio Pro Lifetime Achievement Award recipient, and inaugural PLASA Gottelier Award winner Tony Andrews founded Funktion One with John Newsham in 1992. Whilst often imitated, their designs have been the first choice of many permanent and touring sound applications around the World including luminary clients Pink Floyd, Santana, and the Glastonbury Festival. They are globally known for their pioneering work and ethos, and consistently set the standard for modern audio engineering.
In their own words: We understand sound to be the most important of our senses and in fact, the root of the structure of the entire Universe. As such, we try to pay the amazing acuity of human hearing the respect it deserves by providing products that deliver as much resolution and detail as is possible. We also pay considerable attention to the emotional effect of not just music, but the sound itself, what you might call its 'quality'. In a world where everything is 'dumbing down' and finesse and subtlety are rapidly disappearing, it is a source of pride to us that we are continually going in the opposite direction, expanding the envelope. On a spiritual level, good music and good sound has the effect of opening peoples' minds and deepening their consciousness which can only be good for the planet.
THE TIPPER SOUND EXPERIENCE features a rare matchup of audio and visual talent and will include headline performances at The Big Bounce, Rain Dance, and SONIC BLOOM festivals, followed by a rare show at The Coconut Grove Grand Ballroom on Santa Cruz Beach Boardwalk and culminating with a special presentation at The Regency Ballroom in San Francisco. For more information about the TIPPER SOUND EXPERIENCE and ticket information, click here.