Tom Russell: Blood and Candle Smoke Streets 9/15
Submitted by press on Tue, 09/01/2009 - 05:32
Tom Russell has recorded 25 records and one DVD. His songs have been recorded by Johnny Cash, Doug Sahm, Nancy Griffith, Joe Ely, Iris Dement, Ian Tyson, KD Lang, Suzy Bogguss, Ramblin´ Jack Elliott, Jeff Walker, Dave Van Ronk and other great artists.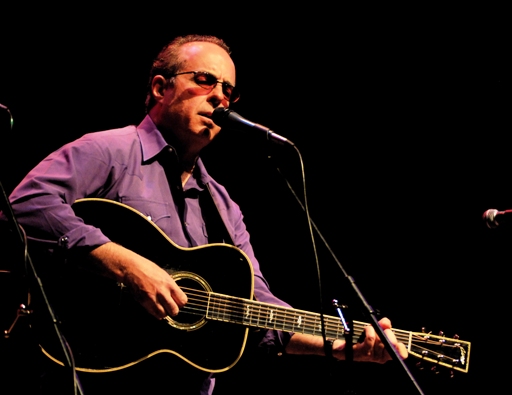 Russell credited, along with Dave Alvin, of inventing the Americana radio format with their Merle Haggard tribute 'Tulare Dust' in 1994. The Columbus Other wrote: 'Russell seems to have invented, and keeps re-inventing, American roots music...! He´s the strongest live performer we have seen in years.'
Tom Russell has appeared on the David Letterman TV show four times in the last few years, and his songs have appeared in a dozen movies and television series including: Tremors, Songcatcher and Northern Exposure.
Russell was born in Los Angeles in 1953 and now makes his home on a 2.68 ''badland farm'' on the border of El Paso-Juarez. He graduated from the University of California with a Master´s Degree in Criminology and taught school in Nigeria during the Biafran war, befor re-locating to Vancouver to begin his musical career singing Hank Williams´ songs in skid row bars.
Tom Russell has published three books: a detective novel (in Scandinavia), a compendium of songwriting quotes with Sylvia Tyson (And Then I Wrote - Arsenal Press), and a book of letters with Charles Bukowski: (Tough Company: Mystery Island Press).
Russell is also an established painter represented by Yard Dog Folk Art in Austin and Marfa (www.yarddog.com) and Rainbow Man in Santa Fe (www.rainbowman.com)
In 2008 Shout Factory released 'Veteran`s Day', a double disc Anthology with 37 songs, which were remastered, from Tom`s entire recording career. Guest artists included Dave Alvin, Nanci Griffith, Iris Dement, Ian Tyson, and many more. There are also two unreleased songs included, and a twenty page booklet. In 2009 Tom co-produced, and was a featured guest, on the critically acclaimed Gretchen Peters record One To The Heart, One To The Head which included Tom`s song "Guadalupe" and songs by Bob Dylan and Townes Van Zandt. Tom`s new Shout Factory record Blood and Candle Smoke is scheduled for a September 15, 2009 release.
Robert Hunter, the Grateful Dead lyricist and co-writer on Dylan's latest, said, "Excellent record in all respects. Lyrics are jewels, arrangements deeply tasteful, vocals superb." Robert first met Tom in the latter's New York cab in 1983 and the two became friends. (Things happen to Tom that just don't happen to anyone else.) 
Here is an mp3 from Tom's newest album:  {play}images/mp3/santa_ana_wind.mp3{/play}
Upcoming Tour Dates:
 

Month

            City                                  Country







 

Sep 18, 2009

Cowboy Train




 

Sep 18, 2009

Albuquerque, NM




 

Sep 19, 2009

Durango, CO




 

Sep 30, 2009

Cambridge (Boston), MA




 

Oct 2009

 

Oct 01, 2009

The Late Show with David Letterman, NYC




 

Oct 02, 2009

Piermont, NY




 

Oct 03, 2009

New York, NY




 

Oct 04, 2009

Washington, DC




 

Oct 06, 2009

Pittsburgh, PA




 

Oct 07, 2009

Cleveland, OH




 

Oct 08, 2009

Columbus, OH




 

Oct 09, 2009

Ann Arbor, MI




 

Oct 10, 2009

Chicago, IL




 

Oct 11, 2009

Fairfield, Iowa




 

Oct 13, 2009

Columbia, MO




 

Oct 14, 2009

Kansas City, MO




 

Oct 15, 2009

Springfield, IL




 

Oct 16, 2009

St. Louis, MO




 

Oct 17, 2009

Mt. Olive, IL




 

Nov 2009

 

Nov 04, 2009

Phoenix, AZ




 

Nov 05, 2009

Tucson, AZ




 

Nov 06, 2009

Pinos Altos, NM (near Silver City)




 

Nov 07, 2009

Las Cruces, NM




 

Nov 08, 2009

Santa Fe, NM




 

Nov 10, 2009

Fort Worth, TX




 

Nov 11, 2009

Dallas, TX




 

Nov 12, 2009

Austin, TX




 

Nov 13, 2009

Fischer, TX




 

Nov 14, 2009

Houston, TX




 

Nov 15, 2009

San Antonio, TX




 

Dec 2009

 

Dec 04, 2009

San Diego, CA




 

Dec 05, 2009

Santa Monica, CA




 

Dec 06, 2009

Ojai, CA




 

Dec 07, 2009

Visalia, CA




 

Dec 09, 2009

Felton, CA




 

Dec 10, 2009

Redwood City, CA




 

Dec 11, 2009

Berkeley, CA




 

Dec 12, 2009

Winters, CA




 

Dec 13, 2009

Sparks (Reno), NV




 

Dec 14, 2009

Sparks (Reno), NV




 

Dec 15, 2009

Portland, OR




 

Dec 16, 2009

Seattle, WA




 

Jan 2010

 

Jan 15, 2010

Bristol, UK




 

Jan 16, 2010

Farncombe (Surrey) , UK




 

Jan 17, 2010

York, UK




 

Jan 19, 2010

Southport, UK




 

Jan 20, 2010

Glasgow, UK




 

Jan 21, 2010

Glasgow, UK




 

Jan 22, 2010

Barton-upon-Humber (North Lincolnshire), UK




 

Jan 23, 2010

Bury, UK




 

Jan 24, 2010

Gateshead, UK




 

Jan 25, 2010

Norwich, UK




 

Jan 26, 2010

Leicester, UK




 

Jan 27, 2010

London, UK




 

Jan 28, 2010

Belfast, UK




 

Jan 29, 2010

Dublin, Ireland




 

Jan 30, 2010

Roscrae, Ireland




 

Jan 31, 2010

Galway City, IE




 

Feb 2010

 

Feb 01, 2010

Norway




 

Feb 02, 2010

Norway




 

Feb 03, 2010

Norway




 

Feb 04, 2010

Norway




 

Feb 05, 2010

Norway




 

Feb 06, 2010

Norway




 

Feb 07, 2010

Norway




 

Apr 2010

 

Apr 12, 2010

Toronto, Canada




 

Apr 14, 2010

Calgary, Canada




 

Apr 15, 2010

Calgary, Canada




 

Apr 16, 2010

Edmonton, Canada




 

Apr 17, 2010

Calgary, Canada