Tom Russell Joined By Calexico, Lucinda Williams, Van Dyke Parks On Cinematic 'Mesabi'
Submitted by mike on Sat, 06/25/2011 - 02:44
The Mesabi iron range juts into Minnesota, a desolate deposit of minerals and the birthplace of Bob Dylan. American composer and storyteller Tom Russell says that Bob Dylan inspired him to become an artist, and his new 'Mesabi' pays moving tribute with compelling tales that connect the iron range to the border town of Juarez, Mexico and the myth of Hollywood celebrity with cinematic, global revelry. 'Mesabi,' out Sept 6 on Shout! Factory, is a vast, interwoven collection of tales set to twangy rock, country and Mexican folk and features Calexico, Van Dyke Parks and Lucinda Williams.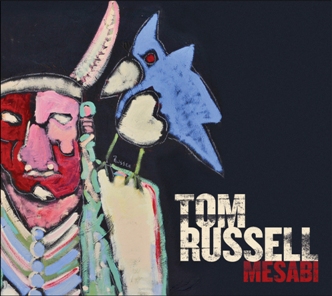 Co-produced by Russell and keyboardist Barry Walsh, and recorded in several different studios in Tucson, Texas, Nashville and Los Angeles, 'Mesabi' is the 26th album from an artist whose songs have been recorded by such icons as Johnny Cash, Dave Van Ronk, Jerry Jeff Walker, Doug Sahm and Ramblin' Jack Elliott, among others.
'Mesabi' is thematically ambitious, drawing inspiration from American icons like Dylan, Elizabeth Taylor, James Dean and the perilous town of Juarez, Mexico, close to where Tom lives. Says Tom, "The puzzle is that [Juarez is] the most dangerous city in the world and El Paso, just over the bridge, is the safest city in the United States."
Along with the release of 'Mesabi,' 2011 has much in store for Tom. Filmmaker Monte Hellman ('Two-Lane Blacktop') demanded that Tom's new songs be included in his new film 'Road To Nowhere;' a book of 60 of Tom's paintings will be released this fall on Bang Tail Press; a documentary about Tom's life, 'Don't Look Down,' will be released soon; and he will be touring the US in September and October.
--
'MESABI' TRACK LISTING:
1. Mesabi
2. When the Legends Die
3. Farewell Never Never Land
4. The Lonesome Death Of Ukulele Ike
5. Sterling Hayden
6. Furious Love (For Liz)
7. A Land Called "Way Out There"
8. Roll The Credits, Johnny
9. Heart Within A Heart
10. And God Created Border Towns
11. Goodnight, Juarez
12. Jai Alai
13. Love Abides
Bonus Tracks:
A Hard Rain's A-Gonna Fall
The Road To Nowhere
Tour dates and more info here.