TONIGHT: Lettuce Performs James Brown Tribute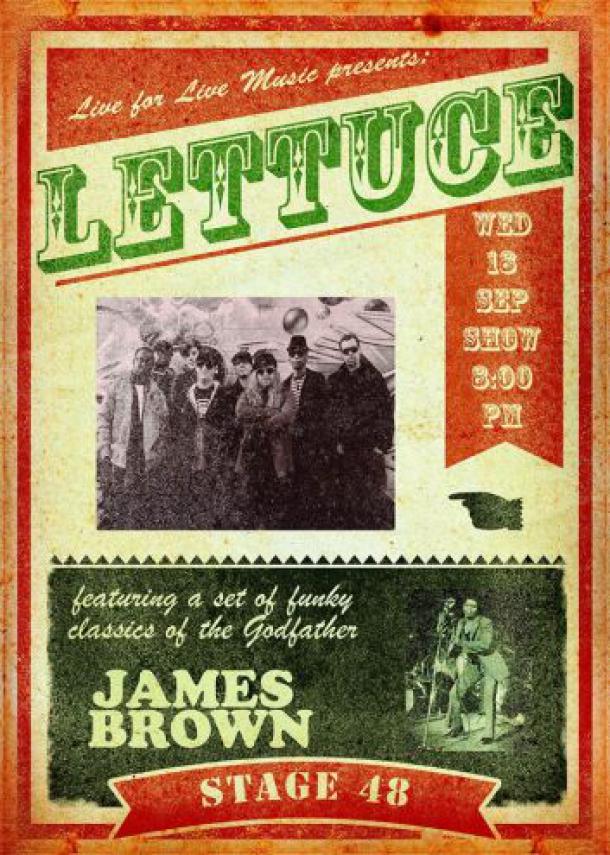 Tonight Phoncert, a new live music streaming application for iPhones and iOS devices, will broadcast Lettuce performing live from Stage 48 in Manhattan. Fans can download Phoncert free to their phones and listen from anywhere on the go, or stream online at www.phoncert.com/listen.
Presented by Live for Live Music, the Hump Day rage starts at 8 p.m. with an opening set from the Nigel Hall Band before Lettuce hits around 10:15 p.m., performing a special set of classic tunes honoring legendary soul man, James Brown.
Tickets to the live show still available, purchase HERE.
About Lettuce
A mutual love of old school funk bonded a group of Berklee College of Music students back in 1992, and now, more than 20 years later, Lettuce has evolved into one of music's most pervasive modern funk ensembles. Coupling studio releases Outta Here (2002), Rage! (2008) and Fly (2012) with electrocuting live performances across the nation and overseas, there's no denying that Lettuce is one of the tightest groove juggernauts on the scene today. "We play music that reflects our way of life," says bassist Erick "Jesus" Coomes, who is joined by fellow Royal Family ragers: guitarist Adam "Shmeeans" Smirnoff, keyboardist Neal Evans, vocalist Nigel Hall, drummer Adam Deitch and the Shady Horns featuring Ryan Zoidis on alto sax, Eric Bloom on trumpet and James Casey on tenor sax. "We love that nasty funk, that undeniable funk... the funk of the ages."
http://www.lettucefunk.com