Tony Furtado Returns To The Boulder Theater
Submitted by ryan on Wed, 11/30/2005 - 15:27
As the temperature falls and we add another layer to our Colorado uniform, it certainly feels like that time of year when tradition runs deep. The return of Tony Furtado to the Boulder Theater kept in traditional stride as he remained true to his Thanksgiving Day appearance and brought his genre bending songs to the familiar Boulder audience. Those of us present Friday night were fed a healthy serving of some good ol' fashioned Rocky Mountain pickin' turned electric.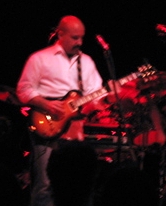 Tony came in tow with his banjo and guitar back from his new home in Portland and managed to scrounge up some familiar Boulder musicians, The Tony Furtado Band. Tonight the band featured Matt Spencer on bass, Christian Teele on drums, Ross Martin on electric guitar and Tony on banjo, guitar and vocals.
The crowd spiritedly welcomed Tony and the band to the stage and the dance floor came alive. Tony Furtado and his banjo stylings present themselves as country rock songs with a tinge of bluegrass - or country songs with a dab of rock depending on what side of the Mississippi you grew up on. In actuality though, the music is best left unlabeled and should merely be absorbed for its truly original compositions and melodic jams. The electric banjo work is subtle, yet intricate, and you can feel Furtado's inspiration in each pluck. His songwriting skills seem acute as ever and Tony's acoustic guitar diligence showcases his years of creative experience and exploration. A student turned master of the slide guitar, Furtado was mainly picking and strumming this evening and why not when it sounds/feels so good.
Matt Spencer had a noteworthy bass solo that smoothly bounced back into a full band swing and the crowd was also treated to a cover of Tom Petty's Runnin' Down A Dream. It's also a pleasure to hear Ross Martin on some electric guitar. He plays a very meandering, almost whispering lead that is a distinct departure from when he picks on his acoustic.  The crowd participated in an impromptu sing along during a re-vamped version of the story of Stagger Lee as Tony and Ross volleyed solos and the entire band seemed to be having fun while the audience fed off the energy.
The night proved to be a festive evening of familial celebration and musical jubilation. From old classics to zestful covers, The Tony Furtado Band played a solid set of eclectic songs to an obviously appreciative Boulder Theater crowd.